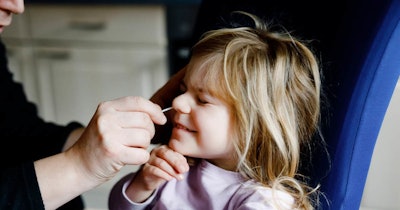 Mologic has announced that its proprietary COVI-Go SARS-CoV-2 Ag Self-Test received an emergency use authorization (EUA) from the U.S. Food and Drug Administration (FDA) for over-the-counter home use.
The development of the test was funded under an $11.8 million contract through the U.S. National Institutes of Health (NIH) Rapid Acceleration of Diagnostics (RADx) initiative.
On Friday, the FDA announced the EUA for the Mologic at-home test as well as for the GenBody COVID-19 Ag Home Test and a first-of-kind authorization for the Lucira COVID-19 & Flu Test.
The Mologic device is an easy-to-use rapid antigen test that has a streamlined design comprising only two components -- an anterior nasal swab and test device.
According to New Gloucester, ME-based Mologic, a subsidiary of Global Access Diagnostics (GADx), the all-in-one testing format eliminates the need for mixing and pouring of buffer solutions.
The self-contained unit is safe and portable with an integrated buffer that fully neutralizes the COVID-19 virus present in the sample to reduce biohazard risk and cross-contamination, the firm added.
The design makes testing possible anywhere and by individuals aged 14 years and older, or with adult-collected nasal swabs from children as young as two years old. Following a few simple steps, the test qualitatively detects the nucleocapsid protein antigen from SARS-CoV-2 in approximately 20 minutes.
Of those who tested, 97% of patients agreed that the COVI-Go Self-Test was easy to perform, GADx said.
"RADx has been invaluable in supporting the product prototype through clinical trial and EUA registration," Mark Davis, CEO of GADx, said in a statement. "Accordingly, we are prioritizing U.S. manufacturing, deployment, and equitable access to testing across the country ... As COVID-19 is here to stay, alongside associated health challenges, the ability to leverage such a platform with the inclusion of additional respiratory diseases will be paramount to our continued strategy."