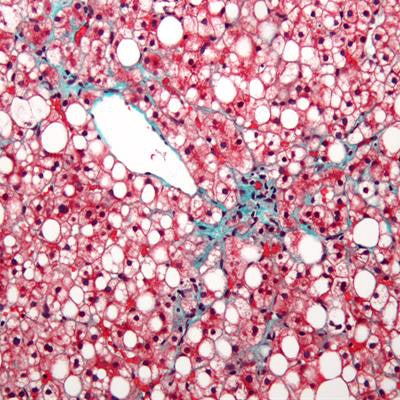 A small study suggests potential for the development of a lipid blood test to pick up on and characterize nonalcoholic fatty liver disease in children, researchers reported at the European Society for Paediatric Gastroenterology, Hepatology and Nutrition (ESPGHAN) annual meeting on June 8.
A group affiliated with the multicenter European Paediatric Non-Alcoholic Fatty Liver Disease Registry (EU-PNAFLD) showed the association of certain fats in the blood with fatty liver on liver biopsies in a poster presentation of 67 patients at the meeting, which was held June 5 to 8 in Glasgow, Scotland. This shows potential for developing a commercial test for the presence of nonalcoholic steatohepatitis (inflammation) and fibrosis (scarring) as an alternative to an invasive liver biopsy within five years, the researchers concluded.
Currently, detailed lipid blood tests are available from several companies on a research basis, and if there were strong evidence for an effect on clinical practice, a commercial product could be developed, lead investigator Dr. Jake Mann explained by email to LabPulse.com.
Long-term goal to boost know-how
The study presented at the meeting was funded by the U.K. Children's Liver Disease Foundation and is one of the first sets of data to emerge through the EU-PNAFLD.
Modeled after a registry for adults with nonalcoholic fatty liver disease, the EU-PNAFLD has a number of big, long-term goals. Among other things, organizers and participating centers are aiming to track the natural history of the disease, about which little is known, through the recruitment of 2,000 children with 500 cases of biopsy-proven nonalcoholic fatty liver disease in a prospective observational study, with outcomes tracking over 20 to 30 years. The effort includes the collection of samples that may be characterized with genome sequencing and metabolomics.
The mean prevalence of nonalcoholic fatty liver disease in children and adolescents is 7.6% in the general population and 34.2% for pediatric patients seen in obesity clinics, according to a systematic review and meta-analysis (Anderson et al, PLOS One, October 29, 2015, doi:10.1371/journal.pone.0140908).
Practice varies, but as a rough estimate, somewhere between 2% and 20% of children seen at specialist liver centers for fatty liver might have a biopsy, said Mann, who is a specialist in pediatrics and the genetics of fatty liver disease at the University of Cambridge's Institute of Metabolic Science, as well as registry coordinator for the EU-PNAFLD. However, most children with fatty liver disease in the population are not seen at a specialist liver center, so, overall, very few -- less than 0.01% of all children with fatty liver -- would have a biopsy, he added.
The ESPGHAN study involved the analysis of biopsies of children with fatty liver disease from one hospital. The researchers measured almost 300 fats (including phosphatidylcholines, cholesteryl esters, and ceramides) in blood tests and compared them with biopsy results. Using mass spectrometry, they aimed to measure as many different fats in the blood as possible and then took an unbiased approach to seeing which ones were statistically associated with severe/advanced nonalcoholic fatty liver disease, Mann explained to LabPulse.com.
Of the 67 children studied, 66% had nonalcoholic steatohepatitis and 10% had fibrosis, the researchers reported. Higher levels of 10 different fats were associated with more severe disease, suggesting the potential for identifying a lipid signature for fatty liver disease.
"Distinct lipid species are associated with different histological features of [nonalcoholic fatty liver disease] in children," the researchers concluded in their poster.
Next steps include validating the results in a study that includes a normal control arm, they wrote.
"We hope to run the test in about 250 to 300 children, which should give us more confidence that this is accurate," Mann said.
A variety of methods have been developed and published for lipid profiling in adults with fatty liver disease, and the researchers hope to make general comparisons with these results, though they are unlikely to be directly comparable, he added.