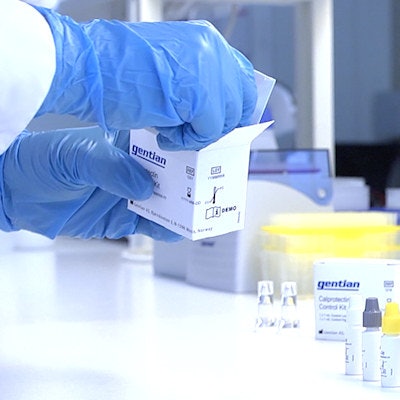 Rapid blood tests for interferon gamma-induced protein 10 (IP-10) and calprotectin could help in the assessment and triage of COVID-19 patients, according to poster presentations reported by test developers at the annual American Association for Clinical Chemistry (AACC) meeting.
Poster studies are available on demand at the virtual meeting, which runs from December 13-17.
MeMed Diagnostics of Haifa, Israel, reported data on the use of its MeMed Key point-of-care immunoassay instrument for measuring IP-10 in order to identify COVID-19 patients at risk of progressing to severe illness, defined as extra-pulmonary systemic hyperinflammatory syndrome. The test offers results in 15 minutes, providing information on a real-time basis about a patient's prognosis, according to the company.
The idea behind IP-10 testing is that knowing which patients are more vulnerable to hyperinflammatory syndrome -- about 10% of the COVID-19 cases overall -- could pave the way for treatment with corticosteroids, which have been shown to be effective and to save lives.
In the study, out of 52 COVID-19 patients who had been hospitalized at a medical center dedicated to COVID-19, 26 were considered to be at high risk based on COVID-19 severity scores. Those who were in this severe category had significantly higher levels of IP-10 than those deemed to have milder cases (1,190 pg/mL compared with 328 pg/mL) as well as significantly higher levels of the inflammatory biomarker ferritin (652 ng/dL compared with 283 ng/dL), MeMed reported.
In 17 patients who were treated with corticosteroids, IP-10 levels plummeted, with the median dropping from 2,961 pg/mL to 372 pg/mL in the first three to five days, a statistically significant result. In contrast, median ferritin levels dropped only slightly in that period -- from 821 ng/dL to 610 ng/dL.
The level of IP-10 surged again after treatment in two patients, who ultimately died, suggesting that the test is useful for assessing severity of disease as well as for monitoring how well treatments are working, MeMed reported.
MeMed sees the test as having potential for use as a proxy for hyperinflammation and an independent prognostic biomarker to guide personalized treatment, with a complementary role to C-reactive protein (CRP). CRP has big blind spots in that it is not a specific test but rather a general marker for inflammation, and it is not always useful for gauging response to treatment, Eran Eden, PhD, co-founder and CEO, explained in an interview.
MeMed has been evaluating the test for measuring IP-10 in a large, prospective study of COVID-19 involving several hospitals in Israel and in Europe, including the UKS Saarland University Medical Center in Homburg, Germany, and the Rabin Medical Center in Petah Tikva, Israel. New peer-reviewed data will be published in the coming months, MeMed said.
Rapid testing for calprotectin
Calprotectin is another marker of inflammation that has potential advantages over and complementary use with CRP. Data from studies involving a rapid IVD assay with the CE Mark developed by Norwegian developer Gentian Diagnostics were also reported at the AACC 2020 meeting.
Calprotectin is a marker for neutrophil activation that is present very early after the onset of infection in the blood in patients with infection and inflammation. It is not a new biomarker -- rather it has been around since the 1980s, Aleksandra Mandic Havelka, PhD, the company's director of clinical affairs, noted in an interview.
Results from a study performed after endotoxin injection in healthy volunteers showed that calprotectin started to increase after 1.5 to 2 hours, which indicates an early rise after the onset of infection/inflammation, compared with 12-24 hours for CRP, Havelka noted.
While calprotectin has been known as an early biomarker of infection and inflammation, it has not been a practical biomarker for real-time use in the past. Traditionally, it has been tested manually with enzyme-linked immunosorbent assay (ELISA), which involves manual analysis and takes several hours.
"Many labs perform ELISA analysis [only] once per week or a few times per month," she said. "So as such, this biomarker is not very suitable for urgent decisions if you can only perform it on ELISA."
Gentian's test may be used with a wide range of instruments from different manufacturers. Results are available in 10 minutes and the company estimates total turnaround time of less than 30 minutes, which makes it suitable for use in acute care settings, according to the company.
One study presented at the AACC 2020 evaluated the calprotectin test for predicting disease severity in 121 patients admitted to the intensive care unit (ICU) of Uppsala University Hospital in Sweden. The observational study also included analysis of a range of other inflammatory biomarkers, including CRP and ferritin, as well as e-selectin using ELISA. Calprotectin levels in COVID-19 patients and a control group of preoperative cancer patients were compared.
The test demonstrated sensitivity of 93% for detection of COVID-19 with specificity of 100%, statistically significant results. Calprotectin results correlated with e-selectin, a biomarker for endothelial cell damage that suggests risk for subsequent organ failure.
"Concentration of calprotectin in plasma is significantly elevated in ICU-treated COVID-19 patients, confirming the involvement of neutrophils and presence of an inflammatory cascade," Havelka and colleagues reported in the poster.
Further research is being conducted to determine how calprotectin levels correlated with organ failure.
A second poster involving the Gentian test was a prospective observational study that evaluated calprotectin for predicting the need for mechanical ventilation and mortality in 66 COVID-19 patients treated at the Hospital General Universitario Santa Lucía in Spain. Elevated calprotectin was a good predictor of in-hospital mortality, with similar results as D-dimer and CRP tests, Havelka and colleagues reported. The threshold of 3.9 mg/dL for calprotectin appears to be the right cutoff point for identifying those at risk of dying from COVID-19, researchers suggested.
Furthermore, elevated calprotectin -- along with ferritin and CRP biomarkers -- was significantly associated with the need for mechanical ventilation. The data suggest that 2.3 mg/L is the right threshold for prediction of this outcome, they reported.
Correlation of lab tests results with patient outcomes
Biomarker
Nonmechanical ventilation (n = 57)
Mechanical ventilation (n = 9)
p-value
CRP, mg/dL
6
10.1
0.048
Ferritin, ng/mL
362
1,201
0.036
D-dimer, ng/mL
600
630
0.695
Calprotectin, mg/L
3.2
5
0.032