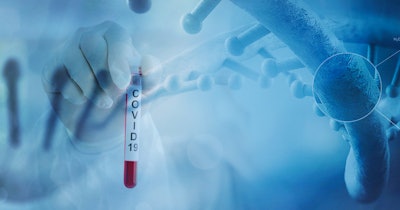 Viral antigen-based diagnostic tests as well as various vaccines have been key tools in fighting COVID-19.
Now researchers at the University of Ottawa in Canada have leveraged plants to produce the building blocks for both antigen tests and vaccines on a massive scale using a technique known as agroinfiltration that causes plants to biosynthesize therapeutic proteins such as antibodies and viral antigens.
While agroinfiltration is a well-established technique for these purposes, what the Ottawa researchers have done is put this process on steroids by reducing the timescale of the process from many months down to three or four days. The key to this time reduction is the use of the plant Nicotiana benthamiana, otherwise known as benth or benthi, a relative of tobacco.
The researchers described their work this week in a study published in PLOS ONE.
"This system is highly responsive and flexible," said the researchers in their published paper. "It is well-suited for supporting the rapid development of viral antigen-based diagnostic tests, such as serological assays to detect antibodies in blood, and vaccines against diseases such as COVID-19 in real time where the occurrence of viral variants represents an ever-evolving target."
In their research, the Ottawa team developed a rapid and flexible agroinfiltration-based platform for the production of recombinant SARS-CoV-2 Spike Receptor-Binding Domain (RBD) in the benthi plant. The researchers claim this platform is simple, massively scalable, cost effective, and easily adaptable to reflect rapid changes in circulating viral sequences. The entire process, from seed germination to the delivery of the tandem-purified antigen, takes only six weeks.
"We demonstrate in this study that plant-expressed RBD displays similar biochemical, structural, and antigenic properties as RBD produced in classical mammalian cell expression systems, thereby indicating its suitability for use in diagnostic tests," report the researchers.
One of the main advantages of using plants as opposed to mammalian cell expression systems is the rapidity by which it can be adapted to work with new variants. "In six weeks, it is possible to produce the purified RBD of a new variant from an expression plasmid," noted the researchers.
The only real restriction on the amount of purified RBD that can be produced is the number of plants that can be grown, which can be cost-effectively scaled up to meet laboratory requirements and does not require sophisticated or costly installations, giving this technology the potential to be broadly accessible worldwide.
Regarding the development of new vaccines, viral targets will need to match the pathogen's evolutionary pace. With the customization of vaccines to new variants becoming increasingly critical, biomanufacturing of viral antigens are critical components for some of these vaccines and their technologies. Multivalent vaccines that target the RBD of several variants and protein subunits, as well as viral vector and virus-like particle vaccines, are examples.
The researchers believe that the data presented in the study set the stage for further investigation of the use of cost-effective and massively scalable plant-based viral antigen in protein subunit vaccines. This is particularly relevant given the comparable properties of plant-based viral antigen to its animal cell-expressed counterpart.