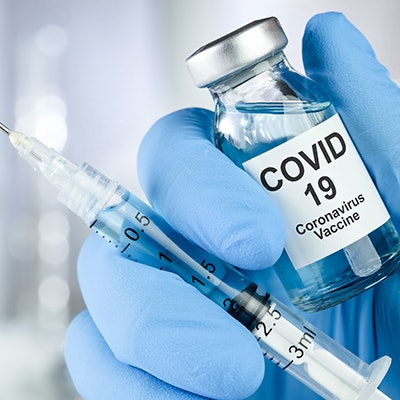 A recent online survey of adults residing in the U.S. found that close to 70% of those surveyed would accept a COVID-19 vaccine if one were widely available. Results of the study were published in the journal Vaccine on August 20.
As of September 2020, the COVID-19 pandemic is responsible for more than 27 million cases and 900,000 deaths worldwide, with the U.S. accounting for the largest share of cases and deaths, according to the World Health Organization. Vaccinations are imperative to halt the global pandemic, and prophylactic vaccine candidates are in ongoing phase II/III clinical trials, including those from Pfizer/BioNTech and Moderna, along with four others.
However, little is known about people's willingness to accept a COVID-19 vaccine or factors that affect acceptability, which is what motivated the online study.
Overall, the results indicate strong public demand for a COVID-19 vaccine. "The interest here is higher than what we typically see for flu vaccine and other vaccines where there is a strong public health need for widespread protection," said lead author Paul Reiter, PhD, an associate professor of health behavior and health promotion at Ohio State University, in a statement.
The Ohio State researchers conducted an online survey of approximately 2,000 adults in May on their willingness to be vaccinated once a COVID-19 vaccine becomes widely available. They found that 69% of respondents would "definitely" or "probably" get vaccinated, 17% were "not sure," and 14% were "probably or "definitely" not willing to be vaccinated.
The researchers also examined 11 contextual and demographic factors that could influence the decision to get vaccinated.
Participants were more likely to be willing to get vaccinated if they perceived the vaccine as effective, if they thought their healthcare provider would recommend vaccination, if they reported higher levels of perceived likelihood getting a COVID-19 infection in the future, and if they reported underlying medical conditions that would put them at higher risk for severe illness from COVID-19.
"That aligns with what we see in public health in a variety of areas -- if someone perceives themselves to be at a higher risk of a health issue, that's going to make them more likely to engage in the health behavior, in this case vaccination," Reiter said.
One surprising result was that vaccine acceptability varied according to political beliefs, with liberals and moderates more willing to accept vaccination than self-identified conservatives.
"COVID-19 has turned into a political issue in many cases, and I think that some people just pick their side based on that, without much research," Reiter said. "We've seen that with mask wearing. It's a promising public health intervention, but it's turned into a political powder keg."
Other demographic groups with lower willingness to accept vaccination included participants who were non-Latinx black, had lower incomes, and had no health insurance.
The vaccination resistance among non-Latinx blacks is concerning since they have among the highest COVID-19 incidence and mortality rates in the U.S. On the other hand, the researchers were encouraged by the fact that vaccine acceptability was high among the Latinx demographic, which has also borne a high burden from COVID-19.
"As the vaccine development process continues, it will be important to monitor changes in people's vaccine acceptability," the authors wrote.