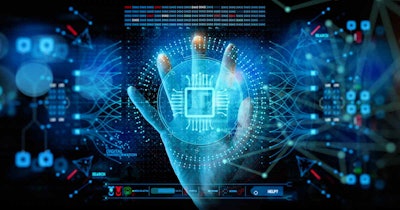 An artificial intelligence (AI) model shows promise for diagnosing COVID-19 in low-resource settings with severe shortages of medical experts, including in many African regions, according to a study published on November 11 in Scientific Reports.
A group led by Keelin Murphy, PhD, of Radboud University Medical Center in Nijmegen, the Netherlands, developed a model that combines chest x-ray interpretations and point-of-care (POC) blood test results. On data collected from four sites in low-resource settings in Lesotho and South Africa, the model outperformed antigen testing, the researchers found.
"This demonstrates the feasibility of collecting such point-of-care imaging and blood tests in low resource settings where patient follow-up is difficult and therefore cost-effective screening tools with immediate results are of utmost importance," the group wrote.
Previously, the group developed an AI chest x-ray model called CAD4COVID and found the model performed comparably to radiologists in triaging suspected COVID-19 cases. The model takes a single frontal chest x-ray as input and produces a score in the range of 0 to 100 indicating the likelihood of COVID-19, as well as outputs a heat map image to illustrate the regions of abnormality.
In addition, research has also shown that point-of-care (POC) blood testing, which can be achieved at low cost and with immediate results, is also a feasible and cost-effective diagnostic tool for COVID-19 in low-resource settings.
Thus, to leverage these capabilities for further potential deployments, the researchers developed a model called COVID-LAB+ that combines these inputs and tested it on data representing a setting where it could have a significant impact.
The group culled data from two previous clinical trials (one in tuberculosis patients) conducted in four low-resource African settings. All patients underwent chest x-ray exams, POC blood tests, and antigen detection rapid diagnostic test (antigen-RTD) tests. In total, a data set from 1,250 participants was used to test the AI model's performance.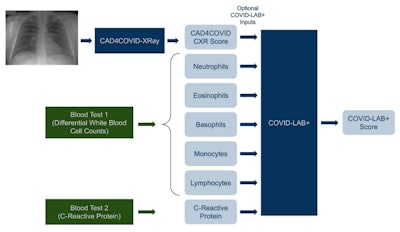 Significantly, the COVID-LAB+ model was not retrained for the purpose of this study, since previous work suggested the model generalizes well on external data, the authors noted.
According to the findings, the AI model alone was a poor predictor of COVID-19, with an area under the curve (AUC) of 60%, since the majority of positive cases had mild symptoms and no visible pneumonia in the lungs, the authors wrote. However, the COVID-LAB+ model that included differential white blood cell counts (WBC), or a combination of WBC and c-reactive protein results achieved an AUC of 74%. Comparatively, antigen-RDT tests achieved a sensitivity of 65%.
"This study is the first to validate AI tools for COVID-19 detection in an African setting. It demonstrates that screening for COVID-19 using AI with point-of-care blood tests is feasible and can operate at a higher sensitivity level than antigen testing," the group wrote.
Ultimately, although currently there is less need for tests that can detect COVID-19, given that the model combines inputs (blood markers and radiological findings), it could also be investigated in other diseases such as tuberculosis, the researchers noted.
"This novel study lays the foundations for future AI development for low resource settings, with the potential, in the future, to detect a variety of conditions based on low-cost point-of-care testing," Murphy and colleagues concluded.
The full article is available here.