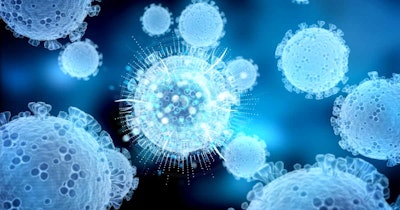 Molecular diagnostics startup 3EO Health is preparing to launch a newly approved SARS-CoV-2 test with its portable molecular device, saying it will "expand access" to the technology.
"We intend to prioritize urgent care centers and physician offices who are seeking a more economic and less complex approach to molecular testing," Jeremy Schubert, CEO of 3EO Health, told LabPulse.com.
"We are currently taking pre-orders on our website and will begin shipping product through our authorized distributors in early November," he added.
3EO Health's SARS-CoV-2 test utilizes nucleic acid amplification technology, similar to polymerase chain reaction (PCR), for the detection of SARS-CoV-2 RNA, which is generally detectable in anterior nasal swab samples during the acute phase of infection.
The molecular test recently received emergency use authorization from the U.S. Food and Drug Administration.
3EO Health's point-of-care molecular platform builds on technology licensed from the Wyss Institute for Biologically Inspired Engineering at Harvard University. The company further integrated the assay and device components and worked to improve the speed and signal output in developing a "manufacturable" detection system.
The firm says its patented biochemistry enables a preparation-free "sample to test" workflow, eliminating the need for cumbersome steps, microfluidics, or expensive equipment while delivering strong clinical performance. The SARS-CoV-2 test is being offered at a market price of less than $20 per test "to provide molecular performance" at antigen test pricing levels, according to 3EO Health.
Schubert added, "Our U.S. manufacturing is ready to produce thousands of instruments and over one million tests by year-end to aid physicians and health systems in lowering cost of care and expanding access to molecular technology for everyone."