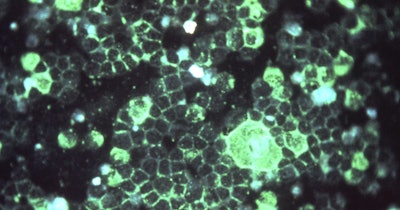 Virax Biolabs on Thursday announced the introduction of a rapid antigen test kit for respiratory syncytial virus (RSV), influenza A/B, and COVID-19 in markets accepting the CE Mark.
The RSV-Influenza-COVID Triple Virus Antigen Rapid Test Kit is an in vitro immunochromatographic assay for the qualitative and differential detection of nucleocapsid protein antigen from influenza A (including the subtype H1N1), influenza B, RSV, and COVID-19, Virax said.
The kit can be used at home and in point-of-care settings to identify infections related to the three viruses and provides results within fifteen minutes, Virax added.
"[The] major industrialized economies are facing a triple threat this year through higher levels of RSV and influenza infections on top of the ongoing COVID-19 pandemic," James Foster, CEO and chairman of the board at Virax, said in a statement. "Giving people the ability to test for all three at home will improve the ability of healthcare systems to manage these infections in a timely manner."
The test kits may be ordered by contacting Virax's sales representatives, the company added.