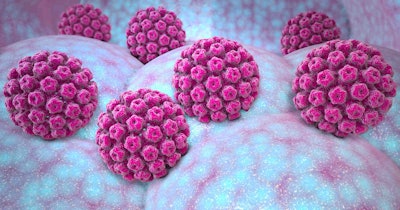 Virax Biolabs on Wednesday announced the distribution of human papillomavirus (HPV) test kits in geographic markets accepting the CE Mark, including the EU.
The HPV test kit covers 18 genotypes of the human papillomavirus, including type 53, which is higher risk and becoming increasingly prevalent, Virax said. The London-based company expects to start shipping kits in the first quarter of this year and has the capacity to supply about 200,000 tests per week.
According to James Foster, Virax's chairman of the board and CEO, the HPV tests "will cover more genotypes [and] have shorter processing times and lower costs than the currently available HPV tests in Europe."
Last November, the firm announced the closing of a $3.8 million private placement to support the development of T-cell testing technology and introduced a rapid antigen test kit for respiratory syncytial virus (RSV), influenza A/B, and COVID-19 in markets accepting the CE Mark.