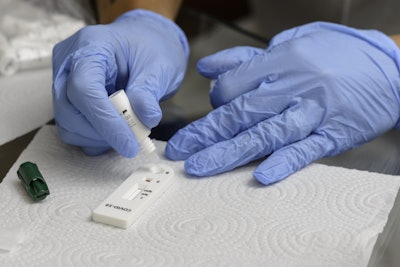 University of Illinois spinout Shield T3 on Tuesday announced the launch of a saliva-based polymerase chain reaction (PCR) test kit to screen for COVID-19, Influenza A/B, and respiratory syncytial virus (RSV).
The illnesses present with similar symptoms but require different treatment methods, making rapid and accurate identification important, Shield said.
The kit identifies which virus a patient may have within 24 hours of sending samples to Shield's CLIA-certified labs. Technicians run a test for COVID-19 and a second test for flu and RSV, the firm said.
The kit will be made available to Shield's partners, including schools and companies, as well as in the company's new COVID-19 test vending machines, the firm added. Each test costs $70 or less.
School administrators can also examine demand and positivity-rate data from the tests using an online dashboard, according to Shield.
The spinout grew out of an easy-to-administer PCR saliva test that University of Illinois Urbana-Champaign developed in 2020, the firm said.