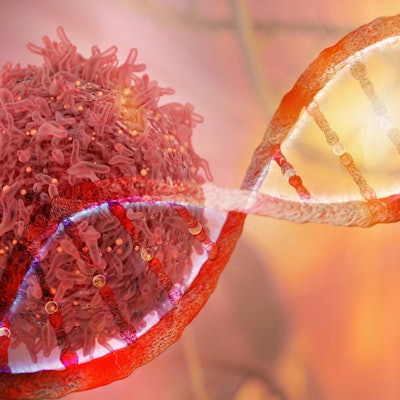 Acute myeloid leukemia (AML) is rightly handled as an oncology emergency, but new data suggest it may be safe to take time for genetic testing, providing a window for matching to targeted treatments, researchers reported in the journal Blood on June 4.
The retrospective real-world study evaluated outcomes for AML patients included in the Study Alliance Leukemia (SAL) AML registry, which includes 46 treatment centers in Germany. Researchers set out to evaluate how differences in the length of time from diagnosis to start of treatment correlated with overall survival and other key outcomes in patients newly diagnosed with and previously untreated for AML.
The median time from diagnosis to start of intensive treatment was three days. Researchers examined results by the number of days from diagnosis to treatment -- 0-5, 6-10, 11-15, and more than 15 days. They found similar rates of response, early death, and overall survival.
"As treatment stratification in intensive first-line treatment of AML evolves, the [time from diagnosis to treatment start] data suggests that it may be a feasible approach to wait for genetic and other laboratory test results in order to assign clinically stable [patients] to the best available treatment option," Dr. Christoph Röllig, of the Universitätsklinikum Dresden in Germany, and colleagues reported in Blood, which is a journal of the American Society of Hematology.
With grim prognosis, time is of the essence
The study addresses a thorny issue in the management of patients with AML. The disease is recognized as being very heterogeneous, with more than 10 subtypes and rare mutations. Drug development has been very active in recent years and numerous genetically targeted drug therapies are now available or in the pipeline, but time is of the essence for treatment.
The authors noted that median survival for patients with untreated newly diagnosed acute leukemia is only about 17 weeks, so presentation with the disease is managed as an emergency, with treatment started immediately after diagnosis. Data on this recommendation, however, are mixed, with some research showing patients suffer from a delay but also some contradictory experience.
The just-published study included patients in the registry whose status was good enough to enable them to undergo intensive treatment and for whom follow-up information was available. Overall, the registry includes more than 4,700 patients and of these the study evaluated outcomes for 2,263. Although there may have been a delay in the start of cytarabine-based intensive chemotherapy regimen, which is standard for the disease, immediate treatment with hydroxyurea was allowed.
Results may in part reflect good judgment on the part of clinicians, that is that they correctly determined which patients needed immediate intensive treatment and which ones could afford to wait, the authors suggested. In a statement about the data, Röllig noted that early treatment is very important for patients who are clinically unstable, such as those with infections, extremely high white blood cell counts, and rapidly multiplying cancer cells.
"Whereas it may be most beneficial to start treatment early in patients with disease-related complications, more stable or older patients may benefit from delay in order to undergo 'medical optimization,' and/or further medical evaluation of comorbidity before treatment assignment," the authors concluded in Blood.