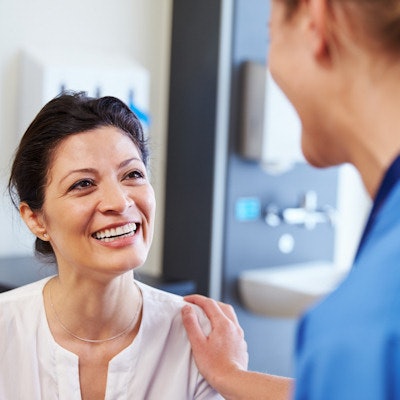 Circulating tumor DNA (ctDNA) test results were significantly associated with disease-free survival in women with early triple-negative breast cancer in a phase II study presented on December 13 at the San Antonio Breast Cancer Symposium (SABCS).
The study -- BRE12-158 -- evaluated the use of Foundation Medicine/Roche's FoundationOne Liquid assay, which is designed to detect 70 genes, in women with triple-negative breast cancer, i.e., negative for estrogen and progesterone receptors and human epidermal growth factor receptor 2. Blood testing was done after preoperative (neoadjuvant) chemotherapy and surgery in women who had residual disease.
Women with triple-negative breast cancer are at high risk for recurrence, including distant metastases, and poor outcomes. The goal of the study is to see if ctDNA results are strong enough to direct therapy after surgery based on genomic profiling.
Results were featured in the SABCS press program and presented during a plenary session at the meeting, which runs December 10-14. Positive ctDNA test results were significantly associated with worse outcomes in the analysis of 142 patients who underwent profiling, Dr. Bryan Schneider, professor of medicine and medical and molecular genetics at Indiana University School of Medicine, and colleagues reported.
Specifically, at the two-year mark, the distant disease-free survival (DDFS) rate was 56% for those who were ctDNA-positive versus 81% for those who were negative. Median DDFS was 32.5 months for the ctDNA-positive group, whereas it had not been reached in those who were negative. The p-value for DDFS was 0.0055 and the hazard ratio was 2.99.
"Overall, ctDNA-positive patients were three times as likely to have distant disease recurrence than ctDNA-negative patients," the investigators noted in a statement.
Next steps underway
The study was funded by the Vera Bradley Foundation for Breast Cancer and Indiana University. A phase III study (BRE18-334) is set to start in 2020; this trial will randomize ctDNA participants to therapy based on their genetic profiling results. Treatment options include inhibitors of PARP and PIK3CA, chemotherapy, and Genentech's immunotherapy atezolizumab (Tecentriq).
Foundation Medicine's FoundationOne CDx genomic profiling test was recently approved as a companion diagnostic for selecting candidates with PIK3CA mutations for treatment with the targeted drug alpelisib (Piqray). Foundation Medicine sees a role for testing of both tissue and blood. Its Liquid profiling assay for solid tumors is currently available as a laboratory-developed test and a filing with the U.S. Food and Drug Administration is now under review. A regulatory decision is expected in 2020.
Dr. Brian Alexander, chief medical officer at Foundation Medicine, commented that the use of ctDNA profiling results to move beyond just predicting recurrence -- to randomizing patients to treatment based on results -- is very new. The study just presented at SABCS shows that liquid biopsy can be used as the starting point, he said. There may be settings where there is very high concordance between tissue and liquid tests, and research is ongoing to figure out in which disease stages and indications one is better than the other -- or where both are useful, he commented in an interview.
"It's on us and our collaborators to figure out what is the best tool for each situation," Alexander said.
Foundation Medicine is partnered with Natera through a recently announced collaboration to develop ctDNA assays for use in monitoring treatment response.