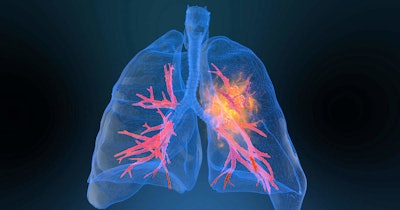 Agilent Technologies announced today an agreement with Quest Diagnostics aimed at providing broad access in the U.S. to the Agilent Resolution ctDx First liquid biopsy next-generation sequencing (NGS) test.
The agreement between Agilent and Quest aims to enable broader adoption of ctDx First, a single-site premarket approved test performed at the Resolution Bioscience CLIA-certified laboratory in Kirkland, WA.
The ctDx First test report -- which has been CLIA validated -- includes comprehensive genomic profiling for 109 genes across four types of alterations: single nucleotide variants, indels, copy number amplifications, and fusions.
The NGS test is the first liquid biopsy assay to be approved by the U.S. Food and Drug Administration (FDA) as a companion diagnostic (CDx) to identify specific advanced non-small cell lung cancer (NSCLC) patients. Those are patients who may benefit from treatment with Mirati Therapeutics' Krazati (adagrasib), a targeted treatment option for adult patients with KRASG12C-mutated locally advanced or metastatic NSCLC, as determined by an FDA-approved test, and who have received at least one prior systemic therapy.
ctDx First is also FDA approved for tumor profiling of the epidermal growth factor receptor (EGFR) gene in accordance with professional guidelines in oncology for patients with advanced NSCLC.
"This expands the testing options available for NSCLC patients as patients don't always have tissue available for molecular analysis," Paul Beresford, vice president and general manager of Agilent's CDx division, said in a statement.
The two primary types of lung cancer -- NSCLC and small cell lung cancer (SCLC) -- were named for how the cancer cells look under the microscope. Both types account for 230,000 newly diagnosed cases of lung cancer in the U.S. each year.
Approximately 85% of lung cancers fall into the NSCLC category. Though this form of lung cancer progresses more slowly than SCLC, 40% of NSCLCs will have spread beyond the lungs by the time it is diagnosed, according to the American Cancer Society.
Under the terms of the agreement, Quest will offer ctDx First to healthcare providers in the U.S. seeking a minimally invasive liquid biopsy test option as a CDx for Krazati.
Healthcare providers can order the test electronically through the Quest connectivity platform. They can also direct patients to provide specimens at one of Quest's 2,100 patient service centers in U.S.
Integrating Quest's electronic health record platform and access to its national patient center network will make it easier for healthcare providers to incorporate ctDx First as part of regular clinical care, Agilent noted.
Financial and other terms of the agreement were not disclosed.