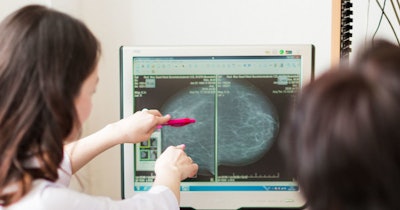 Ibex Medical Analytics (Ibex) has launched a breast cancer biomarker scoring tool powered by artificial intelligence (AI) to help clinicians with treatment decisions.
The Galen Breast HER2 platform was developed in collaboration with AstraZeneca and Daiichi Sankyo. HER2 (human epidermal growth factor receptor 2) is one of the proteins responsible for division and proliferation of breast cancer cells and is expressed in many breast tumors. Traditionally, pathologists evaluate HER2 in tumor samples visually, which may result in subjective, varied interpretations.
Ibex says Galen Breast HER2 is an IHC (immunohistochemistry) scoring solution for analyzing HER2 protein expression, particularly HER2-low, which is often misclassified, to identify patients who are likely to benefit from HER2-directed therapies. It uses a novel AI-powered computational pipeline to analyze HER2 IHC-stained slides, automatically detect the invasive tumor areas, identify the tumor cells, determine their staining pattern, and rapidly calculate the HER2 IHC score.
Ibex said in a statement that a multireader validation study that compared the HER2 scoring performance of pathologists demonstrated that pathologists supported by AI showed higher consistency and accuracy for HER2 scoring, particularly on the lower levels of HER2 expression, compared to pathologists who did not use AI. The firm said that an early evidence program to generate data on the accuracy and efficiency of Galen Breast HER2 in clinical practice was now ongoing across 15 cancer centers and laboratories in the U.S., Canada, Europe, the U.K., and Brazil.
"We are committed to providing pathologists with the most comprehensive AI platform as they implement digital pathology," Issar Yazbin, vice president of product management at Ibex, said.