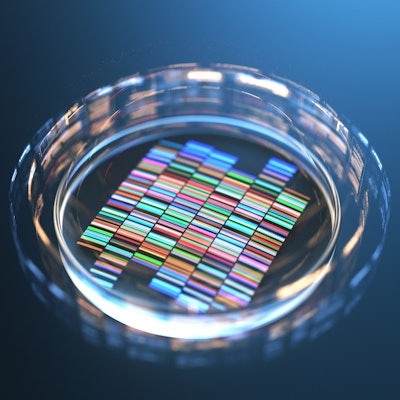 Comprehensive genomic profiling identified alterations that may be associated with treatment resistance in a subtype of non-small cell lung cancer (NSCLC) in a Foundation Medicine study presented at the American Society of Clinical Oncology (ASCO) meeting, held virtually May 29-31.
Many different kinds of new treatments are now available for NSCLC, including immunotherapies and targeted drugs for molecular subtypes, such as MET inhibitors for the 3% of patients with skipping of exon 14 on the MET gene -- METex14-altered disease. The study presented at ASCO, however, uncovered co-occurring alterations that may render patients with METex14-altered NSCLC resistant to treatment with MET inhibitors. Results also suggest that the METex14-altered type can be further broken down into distinct subclasses, allowing for a more precise diagnosis and targeted treatment regimens.
The study was conducted by Foundation Medicine in partnership with the Dana-Farber Cancer Institute and involved the evaluation of more than 60,000 cases of advanced NSCLC, 1,387 (2.3%) of which had the METex14-altered subtype.
The researchers identified multiple co-occurring alterations that may cause resistance to MET and inhibitors of six different subclasses of METex14 skipping alterations, "illustrating the complexity of this cancer, which has a poor prognosis," Foundation Medicine said in a statement.
At the ASCO meeting, researchers cited the following as acquired potential resistance alterations:
Recurrent secondary MET mutations
MET amplification
EGFR/ERBB2 activation
KRAS amplification
PI3K mutations
Comprehensive genomic profiling could be helpful for identifying responders to treatment with MET inhibitors, monitoring treatment response, and developing new treatments for those with mechanisms associated with treatment resistance, the company suggested. The study provides more evidence of the value of genomic testing of tissue and blood for monitoring resistance, Foundation Medicine Chief Medical Officer and study co-author Dr. Brian Alexander said.