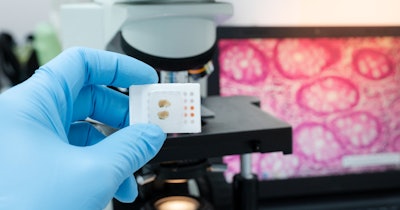 Paige on Thursday announced the availability of Mindpeak's artificial intelligence (AI) algorithms for immunohistochemistry (IHC) biomarker quantification on the Paige Platform.
Specifically, Mindpeak, an image analysis software firm, brings AI algorithms for analyzing IHC slides of lung and breast tissue to the platform.
The pathology AI providers have combined their technologies to help pathologists deliver fast, accurate, and reproducible quantitative cancer diagnoses, even in the most challenging and complex cases, Paige said.
Paige added that the technology integration enables a seamless workflow on its platform through FullFocus, its U.S. Food and Drug Administration (FDA)-cleared whole-slide image viewer. The viewer provides case-reviewing capabilities and access to AI, including Mindpeak's quantitative IHC products that enable detection, classification, and quantification of immunolabeling results for lung (PD-L1) and breast (HER2, Ki-67, ER, and PR) cancers.