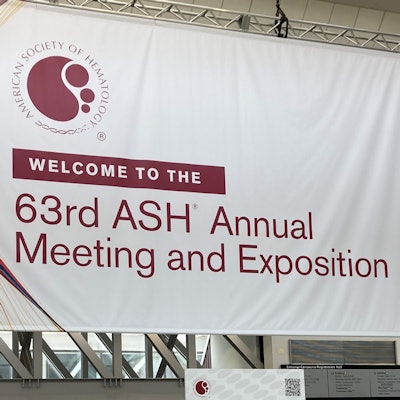 ATLANTA - From artificial intelligence (AI) to a new genetic test that can diagnose hematological malignancies, a series of talks on the eve of the American Society of Hematology (ASH) 2021 annual meeting touched on emerging diagnostics most likely to disrupt how clinicians diagnose illnesses such as blood cancers and myelodysplastic syndromes (MDS).
Changing how clinicians approach medicine
There are three forces driving AI and machine learning in hematology diagnostics: computational power, the availability of large amounts of genomic data, and an influx of money, observed Dr. Aziz Nazha of Amazon Web Services (AWS) during his talk on AI and diagnostic hematology.
In his wide-ranging talk, Nazha, who is a practice manager in the public sector data and machine learning team at AWS, covered introductory topics such as the differences between AI, machine learning, and deep learning and how AI is applied in healthcare. He then addressed in detail two use cases where AI has been applied in diagnostic hematology.
"When you think about diagnostic hematology, we really have a lot of imaging," Nazha said. "So the question becomes, can we use computer vision to aid [in] diagnosis?"
The first use case Nazha reviewed was the application of a deep neural network to images of melanoma cells to answer the question of whether a lesion is malignant or benign.
A big advantage of this approach, Nazha noted, was its reusability. For example, by simply tweaking the last layer of the network, the binary malignant-versus-benign classifier could be repurposed to perform three-way classification of cells as normal, MDS, or acute myeloid leukemia/MDS. Furthermore, since morphology is reflective of biology, the model could be modified further to predict patient survivability or response to chemotherapy.
The second use case cited by Nazha was the application of computer vision to a set of 170,000 annotated images of bone marrow cells to analyze their morphology.
"What the investigators were able to show [was] that this machine-learning model was able actually to discriminate between these images in a really robust way," Nazha said.
Beyond the accuracy of the model, this research on bone marrow cells also had two other properties that Nazha said were important to remember when applying AI to healthcare: external validation and explainability.
"When you build the model, you really want to make sure that the model is reproducible in a different setting," Nazha stressed.
AI acts as a form of two-way collaboration between computer and physician, Nazha concluded.
"Physicians who embrace the technology will become better physicians than physicians who don't use the technology," he said. "If you want to improve medicine, and improve the future of medicine, we have to completely change our thinking."
New genetic test for hematological diseases
In another ASH presentation, Dr. Wendy Erber, PhD, of the University of Western Australia discussed Immuno-flowFISH, an automated cytogenomic method used to detect chromosomes in whole cells.
Fluorescence in situ hybridization (FISH) tests involve the use of selected DNA strands incorporated with fluorophore-coupled nucleotides and are used as probes to hybridize onto the complementary sequences in tested cells, which are then visualized through a fluorescence microscope or imaging system. They are now routinely applied to hematologic and solid tumors in cancer diagnosis.
The "flow" in Immuno-flowFISH refers to imaging flow cytometry (IFC), a diagnostic technique that combines features of flow cytometry and fluorescence microscopy with advances in data processing and analysis. IFC can perform multiparametric fluorescence and morphological analysis of thousands of cellular events and then generate high-resolution digital images of each cell.
Instead of FISH analysis of a small number of red blood cells on a slide, Immuno-flowFISH starts with thousands of cells acquired by IFC, Erber explained.
Quantitative and qualitative analysis of the large IFC image files is performed using the proprietary IDEAS software that comes with the Amnis ImageStream Mk II cytometer from Luminex that the team used to perform IFC.
Using Immuno-flowFISH, Erber and her team obtained a hundredfold increase in the quantity of analyzed cells, as well as increased sensitivity and specificity compared to traditional clinical FISH testing.
"The technique is performed on whole intact cells and does not require any prior cell isolation or purification method – we just perform red cell lysis," Erber said.
She also noted that the technique is suitable for clinical assessment of minimal residual disease, given that it is highly sensitive.
"The qualitative analyses with visual imagery make this very powerful so that we can confirm the quantitative data analysis from the software," Erber said. "Others have described this as a new frontier for psychological samples, and it has capability for assessing any tumor with aneuploidy or structural abnormalities."