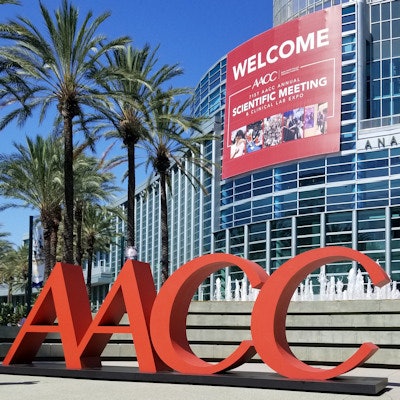 Although this year's meeting of the American Association for Clinical Chemistry (AACC) is virtual, it is probably more important than ever. The industry is at the forefront of worldwide efforts to combat the COVID-19 disease.
As usual, AACC 2020 is the largest gathering of lab professionals and the IVD vendors that service them. This year to keep their interest and participation, virtual happy hours and even ugly sweater parties are part of the meeting, along with scientific sessions and posters.
Kalorama Information analysts will be viewing events and vendor announcements. In particular, analysts are keeping their eye on the following:
1. Time to hear from labs
Laboratorians have been busy all year and now it is their time to speak. Expect to hear what various labs across the country and the world are experiencing in terms of the COVID-19 disease, and associated workloads, staff issues, stress and supply problems. In particular, Kalorama analysts are on the lookout to hear if supply issues have continued even these many months out. Recent surveys from the AACC and the Association for Molecular Pathology (AMP) reflected this.
2. Home collection
The unexpected and unprecedented demand for testing given the COVID-19 crisis has led to a parallel demand for new sampling methods, including home testing. What are vendors developing and what will the AACC scientific sessions say about the experience and performance of these methods in 2020?
3. How robust is R&D and new products
The AACC meeting is a particularly important time for vendors to launch new products and to announce partnerships and mergers. Perhaps this year, COVID-19 may have affected these activities, but we suspect not. We'll be watching to see if new products of a variety of tests are launched or if the primary focus is COVID-19.
4. Respiratory combo panels
Quest Diagnostics and Quidel are among the companies that have announced tests for a combination of flu and COVID-19. Will there be more announcements in this promising area at AACC?
5. AI in diagnostics
With the industry under maximum stress this year, did artificial intelligence (AI) technologies provide any assistance? We'll be looking at AACC 2020 sessions, vendor press releases, and posters to see if there are any positive statistics to match some of the AI-based approaches announced in the past few years. We'll also be looking at the emergence of promising new efforts that might help improve diagnosis using IVD.
6. Attendance and participation
Tens of thousands of lab medicine professionals attend AACC every year. Kalorama has noted over the years how many a city has been surprised at the size of the industry it is hosting when the convention comes to town. This year, will virtual sessions lead to a decline in participation, or will there be an increase, since the meeting is more accessible to laboratorians than in previous years?
A Roche presser and virtual booths at Mindray, Ortho Clinical, and Siemens Healthineers are among today's activities for Kalorama analysts.
Of note -- AACC has announced its support awards, which are a good indication of the significant companies in the industry supplying laboratorians. This year, AACC recognizes 45 different companies and organizations that generously support the association through sponsorships, advertising, and exhibiting.
These significant contributions make it possible for AACC to improve patient care by fostering research, innovation, and professional excellence in the field of laboratory medicine. A full list of the Corporate Supporter Award recipients is available on the AACC's website.
Bruce Carlson is the publisher of Kalorama Information, part of Science and Medicine Group. Kalorama's market report on the IVD industry can be found on Kalorama's website.
Disclosure: LabPulse.com is a sister company of Kalorama Information.