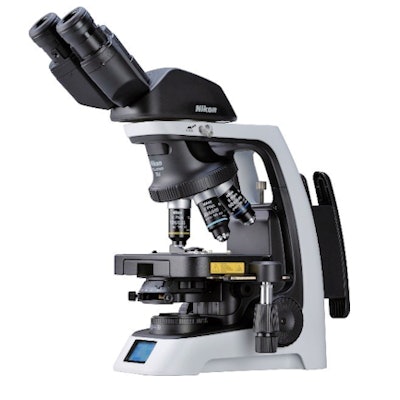 Nikon has announced the release of the Eclipse Si biological microscope, which offers improved operability for educational and clinical applications, as well as an ergonomic design that Nikon believes will reduce the physical strain that can come from prolonged microscope use.
Eclipse Si includes a light intensity management function that reduces the time spent on adjusting light intensity when changing magnifications, the company said. The microscope also sports a tube with a 45° inclination angle, while the microscope's low stage height ensures that users maintain a natural posture, Nikon believes.
What's more, the microscope's focus knobs are positioned on both sides of the instrument for easier access; the device's focus knob and the stage handle can be operated with one hand. This frees up the other hand to rotate the nosepiece and replace the specimen slide. Nikon believes this enables users to observe a large number of samples more efficiently.