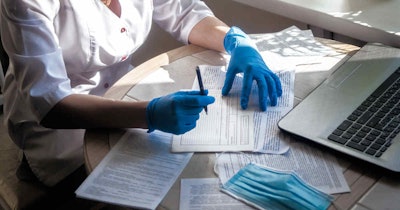 Many health organizations in England are still reliant on paper patient notes and drug charts, despite progress toward electronic records and prescribing, The BMJ has found.
The National Health Service (NHS) says it is investing nearly 2 billion pounds ($2.5 billion) to encourage trusts to adopt electronic patient records (EPRs). Some 88% of trusts already have EPRs, according to NHS figures from May 2023.
But The BMJ's survey of 211 acute, community, and mental health trusts shows that paper notes remain prevalent, which is "less safe and efficient," and difficulties with sharing electronic records are preventing even the most advanced trusts from realizing their full potential, says an analysis by Jo Best, a freelance journalist and doctor.
Of the 182 trusts that responded to The BMJ's questions on patient notes, 4% (seven trusts) said they only use paper notes, and 25% (45 trusts) were fully electronic. The remaining 71% (130 trusts) used both paper notes and an EPR system.
Quantities of paper used can be "staggering," says The BMJ, citing an estimated 25 million pages of A4 a year used by Barking, Havering, and Redbridge University Hospitals NHS Trust alone as an example.
Of the 172 trusts that responded to The BMJ's questions on whether drug prescribing and administration is done on paper, electronically, or both, 27% (46 trusts) said they use only an electronic system. A further 64% (110 trusts) use a combination of both electronic and paper prescribing, and 9% (16 trusts) use only paper drug charts.
The BMJ also discussed with some trusts whether they track serious incidents that specifically relate to paper -- for example, a misread drug dose, a lost set of patient notes, or an illegible plan. Many trusts said that they did not specifically track whether paper was a contributing factor to a serious incident.
Of those that did monitor serious incidents related to paper, most reported between zero and three incidents in the latest 12-month period tracked by the trust.