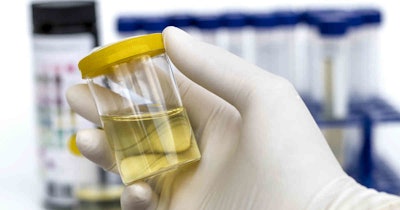 Two simple interventions on electronic health records were found to significantly reduce unnecessary urine cultures among hospitalized patients. The findings, published Wednesday in the American Journal of Infection Control, suggest that hospitals and patients alike can benefit by reducing the overdiagnosis and overtreatment of asymptomatic bacteriuria.
Asymptomatic bacteriuria (ASB) occurs when bacteria from the urinary tract show up in a urine sample, but patients don't have the symptoms that usually go along with urinary tract infections. Most patients with asymptomatic bacteriuria have no adverse consequences and derive no benefit from antibiotic therapy.
However, although the U.S. Preventive Services Task Force, Infectious Diseases Society of America recommends not treating ASB, particularly for patients with long-term indwelling catheters, inappropriate urine culture tests and subsequent treatments are common. ASB overtreatment can lead to patient harm, including adverse effects from antibiotics, antibiotic resistance, and increased length of hospitalization.
The researchers, also physicians, implemented a quality improvement project intended to decrease unnecessary urine culture orders across their 11 acute care hospitals in a relatively simple, nonintrusive, and efficient manner. The interventions consisted of changing the electronic medical record ordering screen for urine cultures to require the entry of an indication, or reason, for ordering the culture, and a so-called best practice advisory that appeared whenever urine cultures were ordered for patients with urinary catheters who were hospitalized for more than 48 hours.
The researchers then compared urine culture orders pre-intervention, from June 2020 to October 2021, and post-intervention , from December 2021 to August 2022. They also assessed variation in hospitals and clinics, as well as responses by clinician type and specialty.
During the study period, the best-practice advisory was triggered 4,822 times, with 552 urine culture orders removed, an acceptance rate of 11.4%. All 11 hospitals saw a statistically significant reduction in urine culture tests. Urine culture orders for hospitalized patients decreased from 32.68 per 1,000 patient days pre-intervention to 25.85 per 1,000 patient days post-intervention, a 20.9% reduction.
For those patients with urinary catheters tested 48 hours after admission, urine culture rates decreased from 2.36 per 1,000 patient days pre-intervention to 1.85 per 1,000 patient days post-intervention, a 21.6% reduction. Catheter-associated urinary tract infection rates remained unchanged throughout the study. Urine culture ordering rate reductions were highly variable among the 11 hospitals.
According to the researchers, the findings suggest that electronic health record-based clinical decision support can be effective in improving patient care. They note that reducing excessive antibiotic use is important in combating the growing threat of antibiotic resistance.
"We believe this successful intervention can be a model for other institutions, and may be especially valuable in resource-limited, safety-net systems," lead author Dr. Mona Krouss of NYC Health + Hospitals, said in a statement.