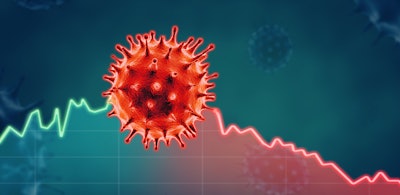 Hologic after the close of the market on Monday reported fiscal second-quarter revenue of $1.03 billion, a drop of 28% from $1.44 billion in Q2 2022, and surpassed analysts' average estimate of $958.8 million.
The revenue drop was primarily due to lower sales of COVID-19 assays compared to the prior-year quarter.
For the three months ended April 1, the Marlborough, MA-based firm said its total organic revenue excluding COVID-19 revenue grew 20%.
Second-quarter Diagnostics revenue of $464.7 million decreased 53% from $115.4 million in Q2 2022. Within Diagnostics, Molecular Diagnostics revenue of $342.2 million fell 60% from $862.5 million in the prior-year quarter, while Cytology and Perinatal revenue of $111.9 million fell 3% from $115.4 million, and Blood Screening revenue of $10.6 million rose 15% from $9.2 million.
Excluding COVID-19 revenue, Q2 Diagnostics revenue grew 15% on an organic, constant currency basis. Q2 Molecular Diagnostics revenue, excluding COVID-related revenue, grew 23.9% on an organic, constant currency basis.
In Hologic's other businesses, Q2 Breast Health revenue of $385.4 million increased 24% compared to Q2 2022; GYN Surgical revenue of $144.8 million grew 23%; and Skeletal Health revenue of $31.6 million grew 51%.
"Each of our core franchises grew double digits in the period, with consolidated organic growth of more than 20%, excluding the impact of COVID," Steve MacMillan, Hologic's chairman, president, and CEO, said in a statement.
Hologic posted Q2 net income of $218.5 million, or $.87 per share, compared to $455.7 million, or $1.80 per share, in Q2 2022. Adjusted earnings per share of $1.06 beat analysts' average estimate of $.88.
At the end of its second fiscal quarter, the firm had cash and cash equivalents of $2.58 billion.
For fiscal year 2023, it now expects revenue of $3.93 billion to $4.03 billion compared with its previous guidance for revenue of $3.85 billion to $4 billion. It anticipates 2023 adjusted earnings per share of $3.75 to $3.95 compared to its previous guidance of $3.55 to $3.85.
For the fiscal third quarter, Hologic anticipates revenue of $930 million to $980 million and adjusted earnings per share of $.83 to $.93. The guidance assumes low double-digit constant currency organic revenue growth excluding COVID-19 related revenues for the full fiscal year.