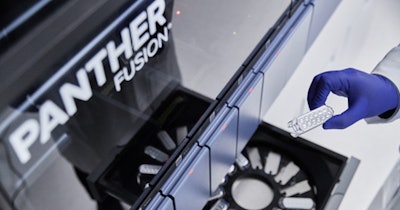 The U.S. Food and Drug Administration (FDA) has granted 510(k) clearance to Hologic for its Panther Fusion SARS-CoV-2/Flu A/B/RSV molecular diagnostic assay, the firm said Friday.
The test detects and differentiates four of the most prevalent respiratory viruses that can exhibit similar clinical symptoms -- SARS-CoV-2, flu A, flu B, and respiratory syncytial virus (RSV).
"While we are out of the respiratory virus season this year, accurate viral diagnosis remains a high priority for clinicians for the upcoming respiratory season and we are committed to advancing COVID and respiratory diagnostics on our Panther Fusion system," Hologic Diagnostic Solutions president Jennifer Schneiders said in a statement. "This test will be a critical tool to help determine which respiratory virus or coinfection patients have so that providers can better inform the best course of treatment."
The Panther Fusion SARS-CoV-2/Flu A/B/RSV assay runs on the fully automated, high-throughput Panther Fusion system, which provides initial results in approximately three hours and can process more than 1,000 tests in 24 hours.
Hologic is introducing the test with its newly developed RespDirect collection kit, which enables laboratories to directly load samples for processing on the Panther Fusion system. Using the collection kit, lab technicians avoid uncapping and specimen transfer steps, saving time and reducing the potential for error, repetitive stress injuries, and exposure to viruses, Hologic said.
The firm obtained a $14.8 million contract in 2021 to develop the test; the U.S. Department of Health and Human Services (HHS) Biomedical Advanced Research and Development Authority (BARDA) funded the contract.