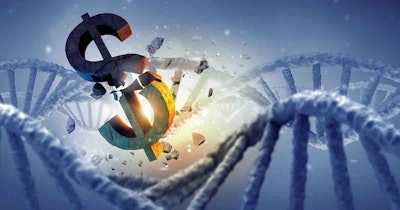 As Veracyte aims for year-over-year growth in testing and product revenue in the mid-teens for fiscal 2023, its CEO sees current genomic testing products, new product introductions, and geographic expansion as some of the most important drivers of longer term revenue growth.
The San Francisco-based company recently initiated 2023 annual total revenue guidance of $325 million to $335 million. Total revenue for 2022 was $296.5 million, an increase of 35% compared to $219.5 million in 2021.
The developer of genomic classifiers for oncology testing applications ended the fourth quarter of 2022 with cash, cash equivalents, and short-term investments of $178.9 million.
"We're very focused on making sure that we have a strong balance sheet and a strong P&L," Marc Stapley, Veracyte's CEO, told LabPulse. "We can generate positive cash flow in a sea of companies who have been burning significant amounts of cash. This is happening in a funding market that's somewhat closed or at least very difficult to access, but it's not a challenge that we have to deal with because we are funding ourselves."
At a time when companies who have relied heavily on COVID-19 testing for revenues over the past few years are suffering from year-over-year declines in sales, Veracyte recently announced that total revenue for the fourth quarter of 2022 was $80.3 million, an increase of 19% compared to $67.3 million in the fourth quarter of 2021.
"We bring molecular diagnostic assays and highly complex, high value insights through those assays to physicians, to help them achieve their goal of figuring out what to do for patients," Stapley said.
He noted that expanding geographically is an important part of Veracyte's strategy. "Companies like ours with labs like ours tend to focus on the U.S. market, but we have a strong global focus," Stapley said.
In its fourth-quarter highlights, the company noted that it had submitted the Envisia Genomic Classifier to the Notified Body for CE marking in the European Union ahead of schedule.
Veracyte had launched the classifier in the U.S. in 2019 for the evaluation of interstitial lung disease. It detects an unusual interstitial pneumonia pattern to increase the confidence in an interstitial lung disease diagnosis and prognosis.
However, Envisia is only one of four tests that the firm runs from CAP-accredited, CLIA-certified laboratories in San Francisco, San Diego, and Austin, TX.
Two of the tests, the Decipher Prostate Genomic Classifier and the Afirma Genomic Sequencing Classifier, currently bring in most of its revenues.
In Q4, testing revenue was $70.3 million, an increase of 32% compared with $53.4 million in the fourth quarter of 2021 and driven primarily by the performance of Decipher and Afirma. For 2022, testing revenue was $250.5 million, an increase of 33% compared with $188.2 million in 2021, and similarly driven primarily by the performance of Decipher and Afirma.
In Q4, the company grew total test volume to 28,001, an increase of 26% compared to Q4 2021; for full-year 2022, it grew total test volume to 102,524, up 30% compared to the prior year.
Veracyte launched the Afirma Genomic Sequencing Classifier in 2011 with the aim of helping reduce unnecessary surgeries and informing treatment decisions for thyroid cancer. Through the end of last year, Medicare and private payors were covering the test for about 275 million people.
The firm developed the Decipher Prostate Genomic Classifier to help inform treatment decisions for men with localized prostate cancer at an initial diagnosis and after surgical removal of the prostate. Veracyte launched Decipher in 2015 for an initial indication -- determining the risk of metastasis after a radical prostatectomy -- and for expanded indications related to prostate cancer risk in 2019 and 2020. Toward the end of last year, Medicare and private payors were covering the test for approximately 195 million people.
"Those are the two tests that on one side of the [growth] equation drive the revenue growth and profitability in our business," Stapley said. "The other side of the equation is investing in our pipeline of products and newer tests."
In 2021, the company launched a fourth CLIA-certified test, the Decipher Bladder Genomic Classifier, which is used by clinicians to identify bladder tumors that are most likely to respond to chemotherapy prior to radical cystectomy. These findings could ultimately help physicians optimize treatment planning for their patients with bladder cancer based on their tumor subtype biology, according to Veracyte.
"Decipher and Afirma adoptions are great illustrations of the proven framework we utilize, which starts with identifying a specific clinical unmet need," Stapley said recently on a conference call to discuss the firm's financial results. "Then we develop a test to address that need, along with securing the clinical evidence, reimbursement, and guideline inclusion to drive market penetration. This successful approach enables us to invest in our long-term growth drivers, namely our Percepta Nasal Swab in lung cancer and the in vitro diagnostic or IVD versions of our tests for global expansion."
During the fourth quarter, he said, Veracyte continued to make progress on the NIGHTINGALE clinical study designed to demonstrate clinical utility and support reimbursement for the Percepta Nasal Swab test. "The study remains a key focus in 2023, as we aim to complete enrollment around the end of this year," Stapley said.
The firm already sells one of its assays, the Prosigna Breast Cancer Assay, as an in-vitro diagnostic test to U.S. laboratories. It plans to implement a similar strategy -- selling a kit to laboratories rather than running tests in a laboratory -- for all testing products in Europe.
"We were aiming to submit our Envisia Genomic Classifier to European regulators in 2023, and … we actually achieved this goal in December ahead of schedule," Stapley said on the conference call. "While the commercialization efforts will begin post the completion of the regulatory process, we have initiated premarketing activities in Europe, including training our sales and market access teams and [key opinion leader (KOL)] education."
Stapley said that the firm's other IVD development projects remain on track for European regulatory submission, with Decipher Prostate expected to reach regulators in 2024 and Percepta Nasal Swab in 2025.