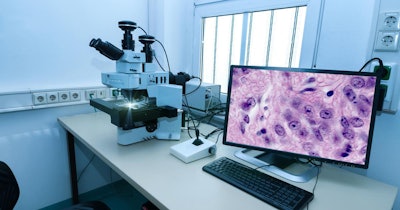 Digital pathology software developer Proscia has signed a deal with Siemens Healthineers to expand the global reach of digital pathology by combining each company's software offerings.
Under the deal, Siemens Healthineers will expand its enterprise imaging offering into the global digital pathology market using Proscia's Concentriq Dx platform. The agreement with Proscia enables Siemens Healthineers to expand into one of the few remaining areas of healthcare that is left to begin experiencing the full benefits of digitization.
Concetriq Dx enables lab networks to unify pathology operations and eliminate geographic silos, and Siemens' syngo carbon enterprising image management software offers a range of possibilities with image interpretation, reporting, artificial intelligence (AI) implementation, data management, archiving, and migration.
Combining Proscia's platform with Siemens Healthineers' enterprise software enables healthcare providers to digitize pathology operations alongside diagnostic radiology imaging for healthcare enterprises. Siemens Healthineers selected Proscia's software due to its product maturity, superior end-user experience, open platform, future-proof capabilities, and recognized brand with in-depth domain knowledge, according to the company.
The partnership comes at a time when demand for digital pathology has surged while systemic challenges that have threatened traditional laboratory models centered around pathologists and microscopes in physical spaces have intensified in the pandemic and post-pandemic era.
Mounting pressures created by a shrinking pathologist population, rising biopsy volume, and industry consolidation have been exacerbated by the pandemic-driven shift to remote work. Laboratories now are seeking to modernize their pathology operations, but legacy software systems lack the necessary enterprise-wide capabilities, preventing labs from achieving complete digitization.