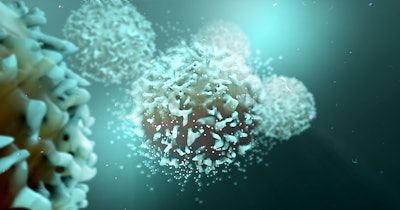 Astellas Pharma has secured the right of exclusive negotiation and first refusal to license one of Poseida Therapeutics' cell therapies in a $50 million deal.
The agreement gives Astellas first refusal for partnering on P-MUC1C-ALLO1, an allogeneic chimeric antigen receptor (CAR) T cell therapy product candidate that Poseida is developing as a treatment for solid tumors. The off-the-shelf CAR-T cell therapy targets mucin 1 (MUC1), a protein that is overexpressed by epithelial-derived tumors such as breast and ovarian cancer.
Poseida began a phase 1 clinical trial of the drug candidate in patients with advanced or metastatic solid tumors last year and presented early data from the study in December. Astellas sees promise in the cell therapy.
Astellas is investing $25 million for an 8.8% stake in Poseida and paying a further $25 million for the right to exclusive negotiation and first refusal to license P-MUC1C-ALLO1. Poseida is giving the Japanese drug manufacturer a board observer seat as part of the deal, enabling its new investor to attend scientific advisory board meetings and giving it certain notice rights related to potential changes of control of the biotech.
Astellas framed the agreement as advancing its work on immuno-oncology, one of its focus areas. Adam Pearson, chief strategy officer at Astellas, discussed how the deal fits into the broader strategy.
"We are focused on reinvigorating the immune system's ability to discover, disarm, and destroy cancers in more patients. We believe that this investment fits strategically with our long-term vision of expanding our capability in immuno-oncology and will ultimately lead to the development of new therapeutics for patients in need of cancer immunotherapy," Pearson said in a statement.
For Poseida, the deal provides an infusion of cash at a time when its ability to raise money from investors is constrained. Shares in the biotech have fallen 66% to $1.98 this year, even after factoring in the 21% bump the stock received on the day of the Astellas news. The Astellas deal extended Poseida's financial runway from mid-2024 to early 2025, buying it time to generate data and form further partnerships.