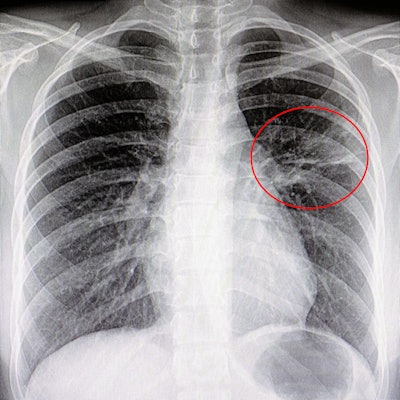 Certain small molecules involved in lung and systemic inflammatory processes show promise as affordable blood-based biomarkers for pneumonia patients at risk of life-threatening complications, according to a study presented on October 2 at the European Respiratory Society (ERS) International Congress in Madrid.
Identifying particular microRNAs -- small molecules involved in the regulation of gene expression -- using polymerase chain reaction (PCR) testing at the time patients are hospitalized with severe pneumonia could alert health professionals to risks and help prevent complications, reported Dr. Francisco Sanz, a pulmonologist at Consorci Hospital General Universitari de València, and colleagues. Testing is affordable, is readily available in hospitals, and takes from one to three hours, the researchers noted.
The study evaluated microRNAs in 169 patients who were hospitalized after acquiring pneumonia in community settings, outside of institutional environments. Most of the patients had severe pneumonia and also comorbidities, notably diabetes and chronic obstructive pulmonary disease, and their average age was 67. Complications were common, occurring in 64.5% of the patients.
Complications in patients with pneumonia
Complication
Incidence rate (n = 169)
Acute hypoxemic respiratory failure
25.4%
Sepsis
13.6%
Death
3.6%
Sanz and colleagues identified three particular microRNAs associated with complications and estimated the accuracy for predicting the onset of complications. For example, they reported that microRNA182 was predictive for both sepsis and respiratory failure.
Correlation between microRNAs in blood tests and complications
microRNA
Complication
Accuracy of complication prediction
microRNA182
Sepsis, respiratory failure
83% for sepsis; 76% for respiratory failure
microRNA223
Sepsis
78%
microRNA574
Respiratory failure
77%
In a statement, ERS President Dr. Tobias Welte from Hannover University in Germany described the approach as innovative with the potential to save lives, but he acknowledged that its usefulness would need to be confirmed by comparison with guidelines and current best practice.
In separate news, the American Thoracic Society and the Infectious Diseases Society of America published a clinical guideline on October 1 for the treatment of adults with community-acquired pneumonia. The guideline advises that for some patients, more microscopic studies of respiratory tract samples should be performed in light of the risks of antibiotic resistance.