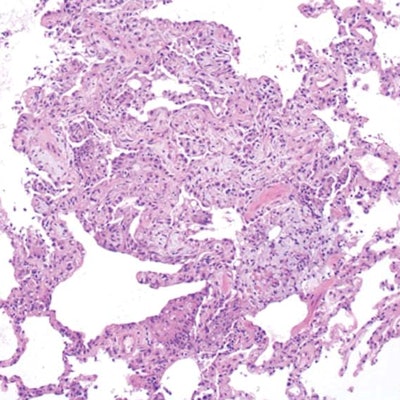 A team of U.S. radiologists and pathologists outlined the current understanding of electronic cigarette (e-cigarette), or vaping, product use-associated lung injury (EVALI), the value of imaging in its diagnosis, and lingering questions about the condition in a review article published online January 28 in Radiology.
The U.S. Centers for Disease Control and Prevention (CDC) has amassed 2,506 EVALI reports, including 54 deaths, as of December 2019. The vaping epidemic has primarily affected younger individuals living in the U.S. -- the median age for all reported cases is 24 and nearly 80% of the patients are younger than 35. Reports of EVALI have yet to emerge in Europe.
Honing in on the precise biologic effects of vaping has been complicated by the wide range of variables involved, from the different types of batteries and heating elements in vaping devices to the extensive heterogeneity of compounds in vaping mixtures, noted lead author Dr. Seth Kligerman from the University of California, San Diego and colleagues. The exact mechanism behind EVALI has also remained elusive, and this general uncertainty makes EVALI diagnosis all the more challenging.
Nonetheless, the medical community and governmental bodies have been able to produce preliminary guidelines to facilitate the early detection of EVALI, especially through pulmonary imaging. The general consensus among lung imaging experts is to use x-ray followed by computed tomography (CT) or CT pulmonary angiography, where necessary, to identify key imaging patterns indicative of EVALI.
"Rapid clinical and/or radiologic recognition of EVALI allows clinicians to treat patients expeditiously and provide supportive care. ... If EVALI is not diagnosed in a timely manner, patients may continue vaping after leaving the doctor's office, clinic, or emergency department, which could lead to worsening lung injury," Kligerman said in a statement from the Radiological Society of North America (RSNA).
The researchers found that the most common radiologic findings associated with EVALI thus far have been organizing pneumonia and diffuse alveolar damage, followed by diffuse alveolar hemorrhage and acute eosinophilic pneumonia, all of which they previously explored in depth during a special interest session at RSNA 2019. Other imaging patterns mentioned in reports include hypersensitivity pneumonitis, exogenous lipoid pneumonia, and giant cell interstitial pneumonia, though the group recommended that these less-common patterns not be qualified as signs of EVALI just yet.
When recognized early, most EVALI patients improve with vaping cessation and glucocorticoid treatment, the authors noted. However, recent longitudinal analysis of EVALI cases showed that vaping can induce pulmonary inflammation and subsequently lead to severe pulmonary scarring and chronic dysfunction in surviving patients.
"Although I am hesitant to speculate on specifics as we just do not have the data, I would not be surprised if vaping is directly linked to many of the chronic pulmonary and cardiovascular diseases commonly associated with traditional cigarette smoking," Kligerman said.
The potential long-term health risks of vaping, though still not well-defined, underscore the integral role of radiologists not only in the initial evaluation of suspected EVALI patients but also in the follow-up of these cases, as imaging studies can be used to evaluate whether the patient's lung disease is improving or triggering superimposed complications, he continued.
"Radiologists must be aware of the clinical manifestations and imaging findings of [EVALI] and should consider these when interpreting and reporting imaging studies of patients who present with acute respiratory illnesses or distress," the authors concluded.