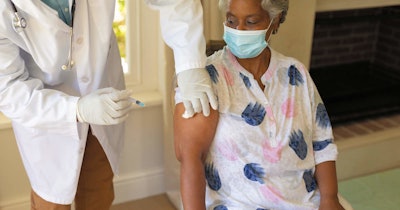 Moderna announced that its mRNA flu shot that is in development has met its primary endpoints in a phase III trial, generating a stronger immune response than a commercially available flu vaccine.
In results from an interim analysis, the experimental vaccine, mRNA-1010, was more effective in generating an immune response than GSK's seasonal flu vaccine Fluarix, the company said in an update posted on its website on Wednesday.
In the trial, mRNA-1010 showed higher antibody levels for all four influenza strains (two each for influenza A and B) recommended by the World Health Organization and higher seroconversion rates than Fluarix. Side effects and safety were consistent with those previously reported in phases I and II mRNA-1010 studies, according to the company; the most common reported side effects were pain, axillary swelling, headache, myalgia, and fatigue.
mRNA is considered particularly promising with the flu virus, as the vaccines can be designed and manufactured more quickly and efficiently than those using older technology -- an important factor for efficacy with the flu virus, which mutates rapidly.
"Our mRNA platform is working. With today's positive Phase 3 flu results, along with previous results in COVID and RSV, we are now three for three on advancing respiratory disease programs to positive Phase 3 data," said Stéphane Bancel, CEO of Moderna.
The vaccine will still need to go through the regulatory approval process. In an interview, Bancel said that the company expects to meet with regulators soon; depending on the guidance received, the vaccine could be available next year.