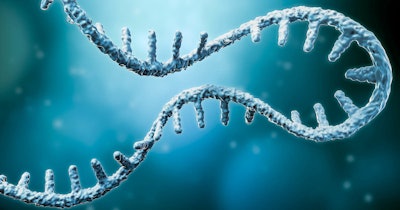 Applied DNA Sciences has acquired Spindle Biotech to improve its mRNA manufacturing capabilities and provide a more efficient production platform.
Applied DNA identified the proprietary RNA polymerase (RNAP) that Spindle is commercializing as complementary to its existing LinearDNA platform, leading it to buy the startup for $625,000 in cash and 750,000 of its shares. Spindle stockholders are in line to receive more Applied DNA shares if certain sales milestones are hit and will also receive a share of 10% to 14% of certain revenues for 10 years.
New York-based Applied DNA will integrate its LinearDNA platform and Spindle's RNAP to make LineaIVT, a platform that it claims will address challenges facing manufacturers of mRNA vaccines and therapies. Currently, production of nucleic acid entails linearization and purification of plasmid DNA and multiple subsequent purification steps. Applied DNA wants to eliminate linearization and some purification to simplify the process.
Applied DNA's existing LinearDNA platform enzymatically produces a linear form of DNA that it markets as an alternative to plasmid-based DNA. Plasmid production entails the amplification of DNA in cells and multiple rounds of purification. LinearDNA amplifies DNA using the polymerase chain reaction, an approach which Applied DNA claims is faster and eliminates purification steps.
Incorporating Spindle's RNAP into the workflow is intended to remove additional purification steps. Conventional production of mRNA generates double-stranded RNA (dsRNA) as a byproduct. Manufacturers use filtration and chromatography systems downstream to remove process residuals and reaction byproducts such as dsRNA, an impurity that can trigger innate immune responses.
According to Applied DNA, Spindle's RNAP has high binding affinity for chemically modified LinearDNA in vitro transcription (IVT) templates and reduces or eliminates dsRNA contamination. As such, combining Applied DNA's platform and Spindle's RNAP could eliminate IVT template linearization and purification steps to create a simplified workflow.
"The issue of dsRNA is currently addressed through additional purification, specialized instrumentation, and cost; however, with the launch of our LineaIVT platform, we seek to solve these manufacturing issues and enable our customers to produce better mRNA faster," Applied DNA CEO James Hayward said in a statement.
Applied DNA, which has made the platform available under an early access program, claims its workflow can increase target mRNA yields and cut the time to delivery of IVT templates to 14 days for milligram scales. At gram scale, the delivery time is 30 days or more.
The company needs to attract customers to its mRNA business to offset the decline of its COVID-19 test operation. Sales fell 28% in the second quarter but Hayward told investors the company should be able to "absorb a short-term increase in cash burn" as it adapts the business to the post-pandemic market.