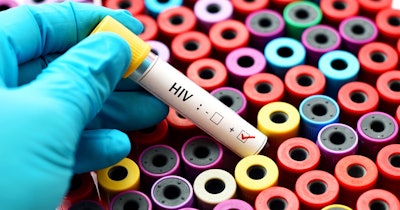 Thermo Fisher Scientific on Monday announced the launch of its CE-IVD marked Applied Biosystems TaqPath Seq HIV-1 Genotyping Kit, a Sanger sequencing-based assay that examines positive HIV samples to identify genetic variants that may resist common antiretroviral therapeutics.
Test data can be used to monitor and help treat HIV-1 infected individuals, as well as inform epidemiologic and genetic surveillance studies to track the ongoing evolution of the virus, Thermo Fisher said.
Antiretroviral drug resistance testing is needed, because more than 10% of treatment-naive adults and about half of newly diagnosed infants show resistance to first-line drug classes. Resistance is also emerging to the newer class of integrase inhibitor-based drugs, risking diminished effectiveness of these therapies, Thermo Fisher noted, citing a World Health Organization report.
"Resistance to antiretroviral therapy is an important concern when providing care to people living with HIV," Dr. Manoj Gandhi, senior medical director of genetic testing solutions at Thermo Fisher Scientific, said in a statement. "This assay, along with its ability to use either plasma or dried blood spot specimens, fulfills an unmet clinical need that can help better manage people living with HIV with the aim of having them receive more effective therapies."
The assay, which uses HIV RNA extracted from plasma or dried blood spots, is designed to analyze genomic mutations in the protease, reverse transcriptase, and integrase regions of the HIV-1 pol gene across nine subtypes of global significance.