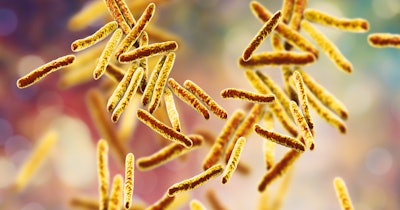 Roche announced Tuesday that it is expanding its collaboration with the U.S. Centers for Disease Control and Prevention (CDC) to strengthen laboratory systems in countries that have been affected the most by the HIV and tuberculosis (TB) epidemics. Approximately 2 billion people worldwide are infected with TB; more than 38 million people are living with HIV.
The public-private partnership (PPP), named Lab Networks for Health, aims to improve HIV and TB detection, prevention, and treatment in countries in Africa, Eastern Europe, Central Asia, Latin America, and the Caribbean that have been hit hardest by the two diseases.
Working in a manufacturer-agnostic collaboration with national ministries of health, the partnership aims to expand training opportunities and support quality management and improvement programs, increase access to multi-pathogen testing capabilities through workflow management and integrated networks, and improve approaches to biosafety and laboratory waste management.
"We are proud to continue our longstanding partnership with the U.S. Centers for Disease Control and Prevention to further support efforts that scale up and expand access to diagnostics for tuberculosis, HIV, and emerging pandemics," Bernard Colombo, president of Europe, Middle East, Africa, and Latin America of Roche Diagnostics, said in a statement. "Investments in strong laboratory networks contribute to the strengthening of health systems that enable people to have access to life-saving testing and treatment for improved disease management and quality of life."
The COVID-19 pandemic caused setbacks for healthcare systems worldwide, especially those already facing significant economic and logistical challenges. The goals set by the World Health Organization (WHO) to eliminate HIV and TB saw dramatic setbacks during the pandemic: a recent UNAIDS report listed approximately 1.5 million new infections occurring in 2021, more than 1 million over the global target. Furthermore, about 10.6 million people worldwide became ill with TB in 2021, in a reversal of a years-long declining trend; only 6.4 million of them were diagnosed, according to the WHO 2022 global tuberculosis report.
"CDC's global laboratory-supported systems and networks are critical for detecting and monitoring HIV and tuberculosis and have also been vital in the response to COVID-19 and other disease outbreaks," Dr. Hank Tomlinson, Director of CDC's Division of Global HIV and TB, said in a statement. "Our renewed partnership with Roche Diagnostics will help to sustain these essential platforms, enhance laboratory workforce capacity, and identify efficiencies in multi-disease public health laboratory systems to ensure accurate, reliable, and responsive diagnostic services globally."