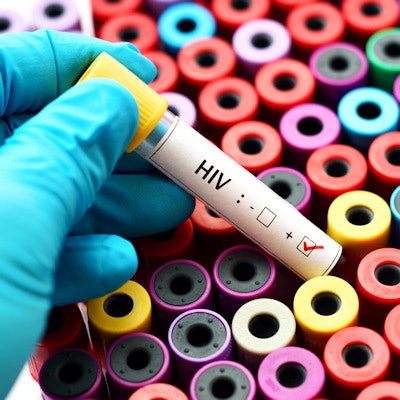 The world market for HIV diagnostic testing was worth about $2.597 billion in 2021, increasing from less market activity due to the COVID-19 pandemic in 2020, according to the latest issue of the In Vitro Diagnostics Business Outlook.
Of the different types of tests, HIV immunoassays are expected to see a compound annual growth rate (CAGR) of 3.2% from 2021 through 2026, said the report, which is published by LabPulse.com's sister brand Kalorama Information.
Within the overall market for HIV testing, immunoassays generate the largest share of revenues at 58%, "largely due to the lower run cost, feasibility in running fewer complex technologies, and availability/affordability for these technologies in low- or medium-income countries," the report said.
Over the years, developers have sought to commercialize more sensitive assays that can detect HIV sooner after infection; today, the latest HIV immunoassays are combo tests that detect HIV p25 antigen as well as HIV-1 and -2 antibodies, the report noted.
HIV molecular tests, expected to grow at a CAGR of 3.1% from 2021 through 2026, represented roughly 32% of the overall market in 2021.
The molecular testing market includes genotyping as well as qualitative detection of HIV, in addition to quantitative detection of viral load. These tests are used most often in advanced economies where molecular practices are better-accepted and have a better return on investment, the report noted.
Meanwhile, the HIV point-of-care testing market is expected to grow at a CAGR of 4% per year from 2021 through 2026, according to Kalorama Information. Point-of-care HIV testing allows for rapid initiation of antiretroviral therapy and eliminates the need to return to a clinic for test results, which is a major concern in rural and less-developed communities.
The report noted that North America has a 49% share of the global market, followed by Europe with a 33% share. In the Asia Pacific region, test capacity, acceptance, and utilization are increasing, and by 2026, HIV testing in the region will account for 14% of the market, up from 12% in 2021, according to the In Vitro Diagnostics Business Outlook.