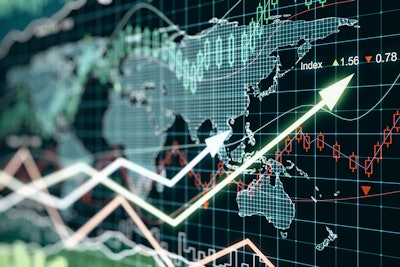 The global market for lab-based immunoassay products, including infectious disease and noninfectious disease analytes and instruments, was worth $30.6 billion in 2022, according to the latest issue of the In Vitro Diagnostics Business Outlook, published by LabPulse.com's sister brand Kalorama Information.
The market is expected to grow at a compound annual growth rate (CAGR) of 2% between 2022 and 2027, reflecting the continued momentum of novel areas of development but experiencing the contraction of the COVID-19 market throughout the forecast period, the report said.
Among the main product segments, COVID-19 accounts for 24.4%; cardiac markers 5.5%; hepatitis testing 5.4%; HIV testing 5.1%; respiratory infections excluding COVID-19 4.9%; and tumor markers 4.6%.
Immunoassays are based on the binding of antibodies to antigens to identify the presence of an analyte. Since the mid-1960s, they have "continued to make an enormous contribution to clinical lab medicine," the report said. "Immunoassays of all kinds -- automated, manual, ELISAs, enzyme immunoassays, bead arrays, microarrays and now those using mass spectrometry -- play a dominant role in laboratory medicine. They have become one of the primary and indispensable tools in the diagnosis and monitoring of all diseases and medical conditions."
Though molecular testing has risen in prominence in recent times, and especially since the onset of the COVID-19 pandemic, the potential of immunoassays has also risen. That's "evident from new assays for metabolic pathways, women's health, diabetes, gastrointestinal disorders, and a wide variety of autoimmune diseases that have been commercialized," the IVD report said.
The report further noted that this mature segment of the IVD market is benefiting from new opportunities and innovations. Throughout the development of immunoassays for COVID-19, there was a push to provide tests that used saliva, for example, and now this technique has extended to other disease applications and areas of development including cortisol analysis.