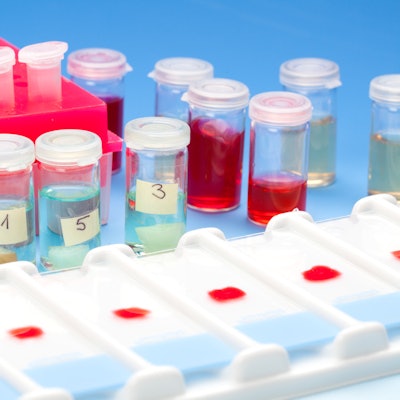 An increasing number of insurance policies are covering liquid biopsies for cancer, according to a study published in the July 2020 issue of the Journal of the National Comprehensive Cancer Network.
The study evaluated private insurance and Medicare coverage trends for tests that identify circulating tumor DNA (ctDNA), cell-free DNA fragments shed by tumors that contain information about the tumor's genetic properties. Clinicians can use the ctDNA data from liquid biopsies to make treatment decisions.
A total of 38% of private payer policies covered ctDNA-based panel testing as of July 2019, the authors found. This was a tremendous increase from the beginning of 2016, when no policies covered liquid biopsies.
The policies also increased in scope of coverage over time. Between 2017 and 2019, policies moved from covering just one type of cancer to 12 types, and from use with a single gene to 73 genes.
While insurance coverage increased in size and scope, most private payer policies were highly specific and written with carefully defined and limited clinical scenarios, including for non-small cell lung cancer, EGFR gene testing, and brand-name tests. The private payer restrictions differed from Medicare policies, which instead evolved toward covering liquid biopsies for all cancer types.
The authors concluded that payers and policymakers need to update policies to recognize emerging scientific findings and new standards in clinical care. Lead author Michael Douglas pointed out that doing so will require new assessments to drive appropriate policies.
"Genomic ctDNA or liquid biopsy tests hold great potential to improve patient outcomes although, as with any emerging test, it can be challenging to develop the most appropriate coverage policies," stated Douglas, program manager for the Center for Translational and Research Policy on Personalized Medicine at the University of California, San Francisco, in a press statement.