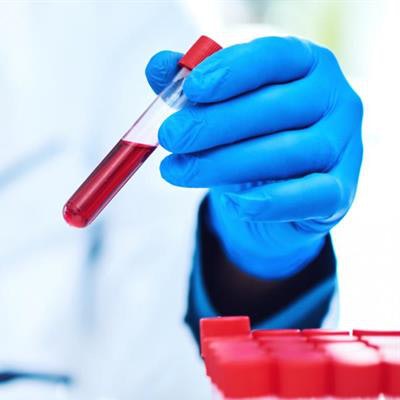 The level of tumor mutational burden (TMB) in blood appears to be an effective biomarker for gauging response to immunotherapies and survival in patients with metastatic non-small cell lung cancer (NSCLC), according to a small study published February 26 in the journal Clinical Cancer Research.
Researchers examined the value of plasma-based TMB (pTMB), as measured with a 500-gene next-generation sequencing (NGS) panel in 52 patients with newly diagnosed metastatic NSCLC. All patients were undergoing treatment with the popular checkpoint inhibitor pembrolizumab (Keytruda, Merck/AstraZeneca); some were taking the immunotherapy alone while others received it along with chemotherapy.
In the study, next-generation sequencing was performed using the GuardantOmni panel (Guardant Health). The median TMB was 16.8 mutations per megabase (mut/Mb). Using greater than 16 mut/Mb as the threshold for high TMB, response rates at nine weeks and six months and progression-free survival were all significantly better in those with higher levels of the biomarker.
If the data are substantiated, blood testing for TMB should be included in the routine management of patients with metastatic non-small cell lung cancer, Dr. Charu Aggarwal, the Leslye M. Heisler Assistant Professor for Lung Cancer Excellence at Penn Medicine, and colleagues concluded.
Blood testing has advantages
The study was funded by the U.S. National Institutes of Health (NIH), the nonprofit LUNGevity Foundation, and Merck.
High tumor mutational burden has been one of the key biomarkers to emerge in helping to identify patients who will respond to treatment; however, to date, research evaluating its value has been conflicting. Aggarwal and colleagues noted that tissue samples are often inadequate when it comes to providing DNA for sequencing, resulting in underrepresentation of tumor molecular heterogeneity. Measuring circulating cell-free tumor DNA in blood could have an advantage for identifying actionable mutations and predicting treatment response, the authors wrote.
Complementary tests
In the current study, the researchers found that mutation status could complement TMB for predicting treatment response. Loss-of-function mutations, including STK11, KEAP1, and PTEN, have been associated with a lack of response to immunotherapy, whereas KRAS and PIK3CA mutations are associated with a response. The differences in progression-free survival and median overall survival for those with TMB over 16 mut/Mb and no negative predictor mutations were significantly greater than in patients with TMB under 16 mut/Mb and negative predictor mutations.
"Adding mutation analysis might enhance the ability of pTMB to predict outcomes from immunotherapy," Aggarwal and colleagues wrote. "These observations, if validated, suggest that including these genomic biomarkers in the predictive algorithms ... may improve identification of pTMB-high patients unlikely to respond."
Experience suggests that blood tests are more effective and convenient than tissue tests for assessing TMB and predicting response, though more research involving both methods is needed, according to the researchers.
"High spatial and [intratumoral] heterogeneity of the immune microenvironment may challenge reliance on a single tissue biopsy to predict immune signatures," whereas plasma TMB tests may overcome this by comprehensively capturing overall tumor antigenicity, the authors explained.