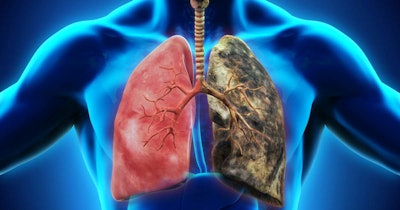 Argus Research said on Monday that it has initiated coverage of BioAffinity Technologies, establishing a fair value estimate of $9 per share that is well above its current level.
BioAffinity has been trading at around $2 per share on the Nasdaq.
"In our view, BioAffinity is well positioned to establish its CyPath Lung test as a cost-effective, noninvasive tool to aid in the early detection of lung cancer," Argus research analyst Steve Silver said in a research note. "Early diagnosis, before the cancer has spread, is a significant contributor to survival. Research suggests that Stage I lung cancer that is detected and treated early can increase the ten-year survival rate to over 90% from a five-year survival rate of approximately 20% for [stages II to IV]."
CyPath Lung, which is in the early stages of a commercial rollout as a laboratory-developed test, uses flow cytometry and machine learning algorithms to profile the approximately 20 million cells in an average sputum sample in less than 20 minutes.
"This approach has helped overcome the limitations of traditional analytical throughput, and test validation trial results achieved superior results of 92% sensitivity and 87% specificity in high-risk patients who had lung nodules 20 mm or smaller," Silver said.
He noted that BioAffinity raised gross proceeds of $15.6 million from a September 2022 initial public offering (IPO) that included the issuance of share/warrant units, as well as from the exercise of some legacy warrants.
"BioAffinity plans to conduct a pivotal trial on CyPath Lung in order to gain [U.S. Food and Drug Administration] approval, which would enable direct marketing to a larger addressable market, which we believe could occur by early 2027," Silver added.
Shares of San Antonio-based BioAffinity, developer of the CyPath Lung test for the early detection of lung cancer, were down more than 1% to $1.93 in Monday afternoon trading on the Nasdaq.