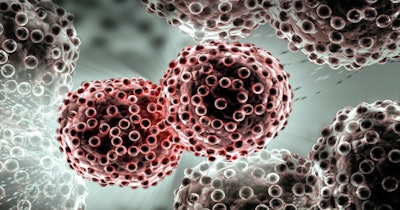 Proteomics company MagArray on Monday announced that Chest, the journal of the American College of Chest Physicians, has published data online demonstrating that its Knodule ID test may help to stratify the risk of malignancy in patients with intermediate risk lung nodules.
The paper, "Development and Validation of a Risk Assessment Model for Pulmonary Nodules Using Plasma Proteins and Clinical Factors," presents data suggesting that Knodule ID may offer a significant improvement over using the Mayo Clinic model alone to characterize indeterminate nodules, the firm said.
Its testing platform uses giant magnetoresistance (GMR) technology and blood-based biomarkers.
Specifically, Knodule ID is a multianalyte assay with algorithmic analysis comprising seven protein biomarkers and six clinical factors; the assay provides a score that is classified into one of five risk categories for the probability of cancer.
The company offers the Knodule ID test and Reveal Lung Nodule Characterization tests from a CLIA-certified lab in Milpitas, CA.
Knodule ID is MagArray's second lung nodule characterization test following the Reveal test, which the firm noted is covered by Medicare.
"Deficiencies in risk assessment for patients with pulmonary nodules contribute to unnecessary invasive testing and delays in diagnosis," Luis Carbonell, CEO of MagArray, said in a statement. "Blood-based protein biomarkers like those used in Knodule ID may be particularly important in helping to select those patients appropriate for serial surveillance or invasive diagnostics by further enhancing the quantitative, noninvasive assessment of these nodules."