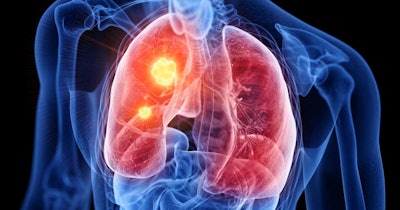 Roche's inadvertent release of interim data from its ongoing late-phase clinical trial has raised hopes that its anti-TIGIT immunotherapy may improve the survival rate of lung cancer patients.
The data was posted on the company's website Tuesday and discovered by Wall Street analysts.
The trial, SKYSCRAPER-01, is assessing the effect of adding tiragolumab, an antibody that binds to the inhibitory immune checkpoint TIGIT, to the cancer immunotherapy Tecentriq. Roche and other pharma companies, including Merck & Co. and Gilead Sciences, have identified TIGIT as a way to boost the effect of PD-1/L1 checkpoint inhibitors, but the mechanism has so far failed to meet expectations.
Roche's interim results suggest that TIGIT may have a future. The Swiss drugmaker previously revealed that tiragolumab failed to improve progression-free survival in the phase III trial, although the overall survival data in the second interim analysis supported continuing the study. Roche had not shared any data from the trial.
On Wednesday, Roche posted a press release containing results from the second interim analysis because the findings had already been inadvertently disclosed. The update raised hopes that Roche can link tiragolumab to a significant increase in overall survival when it performs its final analysis of the trial later this year.
As of November 2022, the data cutoff, the estimated median overall survival rate in patients who received tiragolumab and Tecentriq was 22.9 months compared to 16.7 months in the Tecentriq control cohort. The hazard ratio was 0.81. While the difference between the two arms was not statistically significant in the interim analysis, the data suggest that Roche may report that tiragolumab improves survival.
This encouraging sign of efficacy, and its potential implications for other anti-TIGIT antibodies, prompted a reaction from investors. Shares in Roche rose approximately 2% after the release of the data. Furthermore, the stock prices of smaller companies more focused on TIGIT experienced bigger bumps, with share prices of Arcus Biosciences, Compugen, and iTeos Therapeutics rising as much as 30% in the wake of the Roche data release.