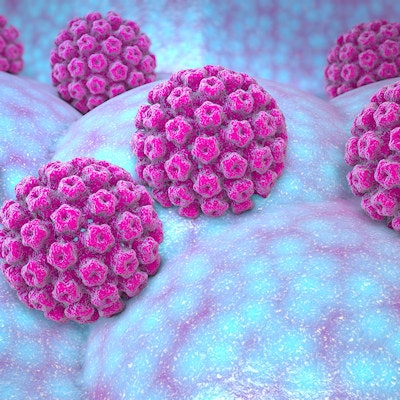 The American Cancer Society (ACS) has made sweeping changes in its new cervical cancer screening guidelines published July 30, including a shift to primary HPV testing, with no cytology, as the preferred screening method.
The ACS published a 2020 update to guidelines for cervical cancer screening for individuals at average risk in its publication CA: A Cancer Journal for Clinicians online July 30. Guidelines were last updated in 2012.
One key change is a shift in favor of HPV testing (no Pap test) with a product approved by the U.S. Food and Drug Administration (FDA) for primary screening. Screening should be conducted every five years between the ages of 25 and 65. Cotesting -- dual HPV and traditional Pap -- every five years is relegated as a transitional option for use in areas that don't have access to primary HPV screening. Cytology alone every three years is another transitional option.
Two primary HPV testing products have the stamp of approval from the FDA for the detection of DNA in high-risk strains of HPV in cervical samples -- Roche's cobas HPV, which was cleared in 2014, and Onclarity HPV from Becton Dickinson (BD), cleared in 2018.
Another key change from the 2012 edition is a recommendation for screening to start at age 25, rather than at age 21. Those over the age of 65 who have been having tests routinely and were negative do not need further screening, which is in line with the last version of the guidelines.
The ACS indicated that those who test positive on HPV and/or cytology should be managed according to risk-based management consensus guidelines published in 2019 by the American Society for Colposcopy and Cervical Pathology (Journal of Lower Genital Tract Disease, April 2020, Vol. 24:2, pp. 87-89).
"We emphasize that the United States is in a transition period from cytology testing to HPV testing, and, in the near term, cytology testing, either alone or as part of cotesting, will continue to have a role as practice patterns evolve and access to primary HPV testing can be assured," wrote Robert Smith, PhD, senior director, cancer control at the ACS, and colleagues.
Comparison of ACS cervical cancer screening guidelines for 2020 versus 2012
Population segment
2020 recommendations
2012 recommendations
Age < 25
No screening
Cytology alone, every three years starting at age 21
Age 25-65
Starting at age 25, primary HPV test alone, every five years preferred, with FDA-approved product
Age 30-65 switch to cotesting (preferred), or cytology alone every three years (acceptable)
Cotesting every five years or cytology alone every three years are acceptable options
Screening by primary HPV testing alone not recommended for most clinical settings
Cotesting or cytology testing alone are acceptable if primary HPV testing is not available
Age > 65
No screening after adequate and negative screening in past
No screening after adequate and negative screening in past
HPV vaccinated
Follow age-specific screening recommendations (same as unvaccinated individuals)
Follow age-specific screening recommendations
Source: Smith et al,
CA Cancer J Clin
.
Simplified screening
In a statement, the ACS explained that the new guidelines reflect the need for a simplified screening process and understanding about the causes of cervical cancer and the best ways to screen for it.
"Virtually all cases of cervical cancer are caused by infection with high-risk strains of HPV," the ACS explained. "Evidence shows the HPV test is more accurate than the Pap test and can be done less often; one HPV test every five years is more effective than a Pap test every three years, and even every year as was recommended in the 1980s and 1990s, in reducing the risk of cervical cancer."
It is understood that few cases of HPV infection develop into cervical cancer and that progression takes many years, Smith et al noted. Overtreatment of lesions is a risk with more screening. Cotesting (HPV and cytology) increases the number of tests, can lead to harms, and is less efficient than primary HPV testing, according to the ACS review.
"Ideally, a screening strategy should maximize the benefits of screening by detecting precursor abnormalities that are likely to progress to cervical cancer as well as early stage cancers, while avoiding the detection of transient HPV," the authors wrote.
Furthermore, more people of screening age are now vaccinated for HPV and cytology is less efficient in vaccinated populations, which can result in a higher rate of false positives.
"There is emerging evidence on screening outcomes from other countries with higher vaccine uptake, and some preliminary data from the United States that show significant declines in cervical abnormalities in vaccinated populations, and which point to the likelihood that future recommendations for cervical cancer screening will need to incorporate HPV vaccination status," they noted.
Change in the U.S. is certainly not going to come overnight. Survey data indicate many labs are not offering primary HPV screening and there is variability in the availability of HPV genotyping, Smith and colleagues acknowledged. Access is better in large hospital/medical centers and in labs affiliated with universities, and limited in public health agency labs.
"The implementation of primary HPV testing for screening in all health care settings in the [U.S.] will be a major undertaking that is expected to take some time," the authors wrote.
"Insofar as the disease burden of cervical cancer is disproportionately borne by minority and underserved populations, the unequal diffusion of a superior screening test could impede cervical cancer prevention services among medically underserved populations and further worsen health inequities," they cautioned.