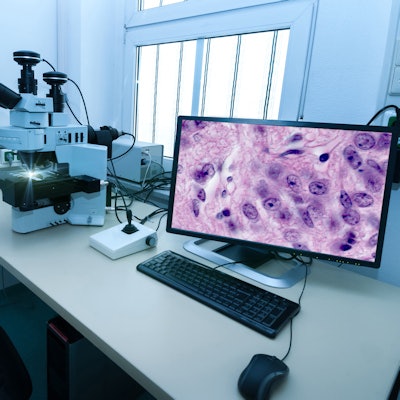 Display developer Barco has launched MDPC-8127, the company's first medical-grade monitor designed for the display of digital histopathology images, including for primary diagnosis and whole-slide imaging (WSI).
MDPC-8127 is a 27-inch, 8-megapixel, ultrahigh-definition display, according to the company. It was designed exclusively for use in digital pathology and can be integrated into pathology workflows with WSI systems from multiple vendors.
The display has U.S. Food and Drug Administration clearance for use with WSI scanners and viewing software that have been validated for use with the display, including software from Philips and Leica.
MDPC-8127 has high pixel density and color-per-pixel uniformity, with 1.07 billion possible colors, resulting in improved visual richness and color confidence, according to Barco. It also includes automated calibration features and support for enterprise-wide quality assurance compliance tests, as well as Barco's RapidFrame technology for in-focus images during panning and zooming.