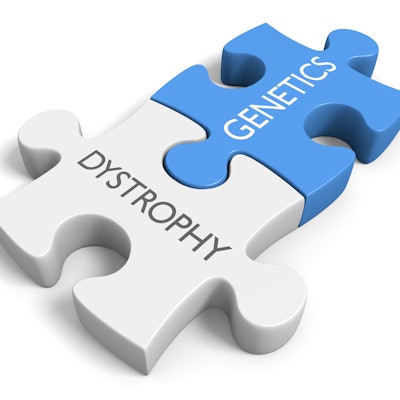 The U.S. Food and Drug Administration (FDA) has cleared the first screening test for the rare genetic condition Duchenne muscular dystrophy (DMD) -- PerkinElmer's GSP Neonatal Creatine Kinase-MM kit -- through its de novo premarket review pathway.
In its clearance of the test, the agency noted that labs may opt to add screening for Duchenne muscular dystrophy to their panel of tests for heritable disorders in newborns. Newborn screening involves the evaluation of dried blood spot samples taken from the heel 24 to 48 hours after birth.
PerkinElmer's test is a fluoroimmunometric assay that measures the protein creatine kinase MM (CK-MM), which is mainly found in muscle tissue but is also elevated in the blood when there is muscle damage.
"Results showing elevated CK-MM must be confirmed using other testing methods, such as muscle biopsies, genetic and other laboratory tests," the agency advised.
The filing was supported by a study in 3,041 newborns, in which the test identified four newborns who had genetic mutations associated with DMD, and a study of 30 clinically confirmed cases.
Clearance of the test came as the FDA granted accelerated approval for the therapy golodirsen (Vyondys 53, Sarepta) for DMD patients with a confirmed mutation of the dystrophin gene that is amenable to exon 53 skipping. The approval was somewhat surprising as Sarepta previously announced that its filing for golodirsen had received a "complete response letter," i.e., a rejection. Sarepta resolved its issues with the agency and plans to launch the therapy immediately.