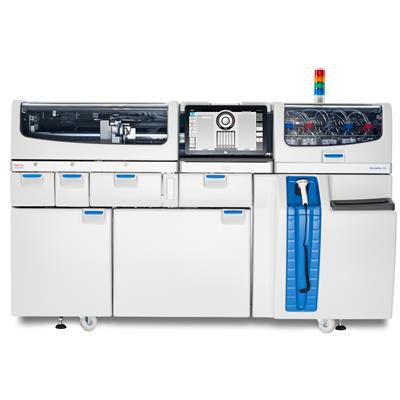 Thermo Fisher Scientific announced that its Cascadion SM clinical analyzer for automated vitamin D testing is now commercially available in the U.S.
Liquid chromatography-tandem mass spectrometry (LC-MS/MS) is considered the gold standard among vitamin D testing methods, but the technique has traditionally relied on sophisticated technology requiring specialized knowledge. The Cascadion SM clinical analyzer, equipped with a built-in 25-hydroxy vitamin D assay, automatically analyzes vitamin D2 and D3 in blood samples, without the need for extensive technical expertise.
The clinical analyzer is designed to simplify and accelerate the implementation of LC-MS/MS into routine clinical workflows, Thermo Fisher said. The analyzer's vitamin D calibrators and controls are traceable following U.S. National Institute of Standards and Technology (NIST) standards, and the assay calibration stays stable for up to 30 days.
Thermo Fisher plans to show the clinical analyzer at the upcoming Association for Mass Spectrometry: Applications to the Clinical Lab (MSACL) meeting from March 29 to April 3 in Palm Springs, CA.