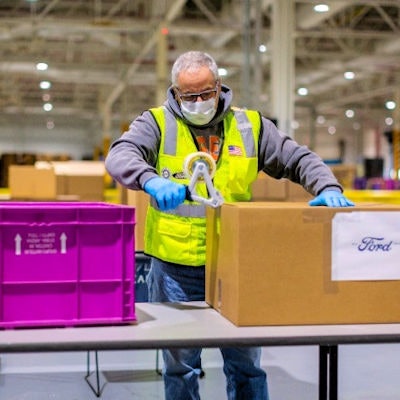 Thermo Fisher Scientific and Ford Motor Co. are collaborating on the production of collection kits for COVID-19 tests.
Ford said it is providing manufacturing expertise to help Thermo Fisher expand production of COVID-19 collection kits to test for the novel coronavirus. Through the partnership, personnel at Ford's assembly plant in Kansas City are helping adapt the machinery at Thermo Fisher's operations in nearby Lenexa, KS, to produce glass and plastic vials required in drive-through coronavirus test collection.
The tie-up is part of a larger initiative at Ford to expand production of medical equipment and supplies during the pandemic. Among other things, Ford has developed a new powered air-purifying (PAP) respirator with design and testing consultation from 3M. Production began on April 14 at Ford's Vreeland, MI, facility with the capacity to make 100,000 or more PAP respirators.