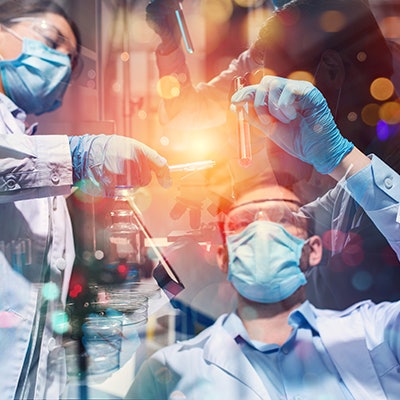 When it comes to diagnostics, start with the clinical need of the patient -- not with the technology. This was the advice of David Walt, PhD, founder of Illumina and Quanterix, in his closing keynote address on February 9 at the Society for Laboratory Automation and Screening (SLAS) 2022 conference.
Traditionally, scientists and engineers create a technology, find a biological application for it, and publish it in a big academic journal. For companies, the cycle is a bit different: a company creates a technology, most likely for life sciences research, and then years (if not decades) later, someone discovers a clinical application for it.
This model needs to be turned on its head, with the clinical need identified first, Walt said. Walt is a core faculty member of the Wyss Institute at Harvard University and a professor of pathology at Harvard Medical School and Brigham and Women's Hospital.
"I propose to you today, a new model, where first we start with the clinical need -- a different model," Walt said. "Let's not think about the technology before we first identify the clinical need."
The problem with the current approach is that it is not only laborious and time intensive, but life science companies are not particularly suited to pivot to clinical applications, Walt noted.
He drew on his own professional experiences to highlight the long timeframes. In the case of Illumina, the company did not see its first clinical application until more than a decade after the company's inception.
The reason is simple: Illumina is a life sciences tools company in the business of consumables, instruments, and reagents.
"Those instruments and reagents are used to make discoveries in fundamental biology, in healthcare eventually, but it takes a long time to do that," Walt explained. "It's great to democratize these kinds of technologies. But the clinical application is not front and center at the beginning of these companies. It's very difficult for companies once they start making revenues in life sciences tools to pivot to a clinical type of company."
Clinician-led diagnostic development
A novel model for new diagnostic development wouldn't start with the technology, but rather the clinician would identify the need, such as which COVID-19 patients are at risk of being put on a ventilator.
The new approach would start with identifying that unmet clinical need, then defining clinical specifications (e.g., what is the clinical sensitivity or specificity needed), followed by biomarker discovery and analytical specifications, he explained.
"Only then do we go and find the appropriate technology that can address that problem," he said. "Because we have a spec sheet, we know: Here's what you need to measure. Here's the concentration range. Here's the dynamic range I need. Here's the turnaround time."
And if the technology doesn't exist, this is where the invention of new technology would occur and researchers would work with clinicians on its development, Walt said.
"Scientists and engineers collaborate with the clinician to validate whether those markers and that instrument can actually provide information that improves patient care and results in better outcomes," he explained. "At that point, you can start a company to develop that technology. And I think that approach can be compressed into a few years."
A different approach in practice
The year 2020 saw a huge need for the acceleration of diagnostics with the start of the COVID-19 pandemic. Walt, who was working at Harvard Medical School, recalled the pivot he made at the start of the pandemic to work with clinicians as they were trying to discern the best care for their patients.
"We pivoted within two weeks of the pandemic," Walt recalled. "By mid-March, we were very actively working on COVID diagnostics, and we actually came up with one of the first -- and still the most sensitive -- antibody serology test for COVID."
During that period, Walt said that clinicians called his lab to seek his advice on how to tell which patients in the emergency department would need a ventilator and which patients were at risk for severe illness.
What Walt and his colleagues discovered was that they could diagnose the severity of the patient's COVID-19 disease by measuring the amount of the COVID spike antigen in the bloodstream. They did this by using the Simoa test, an assay from Quanterix, which Walt said was the only assay sensitive enough for the job.
"You couldn't measure this antigen with any other assay other than Simoa," Walt said. "Even though it was present, it wasn't present at a high enough concentration to be measured by something like a standard ELISA [enzyme-linked immunosorbent assay]."
When patients started developing antibodies to the virus, those antigen levels would drop, and those patients would start to recover. However, those who did not recover had persistent antigen levels in their bloodstream and tended to do worse and need more interventions, Walt said.
"Interestingly, we were able to now find that when patients presented in the emergency department, those who had a high level of antigen greater than 50 picograms per [milliliter] would need to go immediately into intensive care," he said. "This was a really useful, useful tool that clinicians could use to sort of advise themselves on which patients to treat in which way."
Diagnostics accelerator at the Wyss Institute
During his keynote address at SLAS 2022, Walt also introduced the audience to the Wyss Diagnostics Accelerator, a collaboration between the Wyss Institute and Brigham and Women's Hospital. The purpose of the accelerator program is to accelerate the development and deployment of new diagnostics.
The program allows participants to develop new diagnostics while collaborating with clinicians, Walt explained. At the Wyss Institute, there is a technology development facility, a biomarker discovery facility, and a CLIA lab for testing.
"We have a CLIA lab where we can test this technology out and work with our collaborating clinicians who have identified that unmet need," Walt explained. "We can give them the information from those tests that we run in the clinical lab, and they can see if it in fact makes a difference in patient care and correlates with what they're seeing in the clinic."
More information on the Diagnostics Accelerator program can be found on the Wyss Institute website.