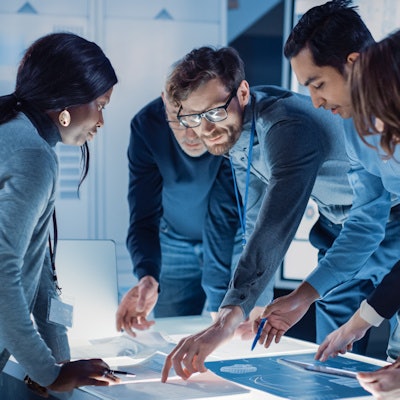 So, you're a scientist who's ready to spin off that great idea into a business. All you need to do is find a team, procure funding, and connect with customers -- easy, right? A panel discussion at the Society for Laboratory Automation and Screening (SLAS) 2022 event offered six tips for scientists on the business of startups.
1. Find the right team
Potential entrepreneurs should realize at the start of any new venture that no one can do at it alone. However, team building is the most difficult part of startup creation, according to Maurizio Aiello, CEO of React4Life.
In the beginning, you need two people who can do everything from sales to strategy, he said. As the company grows, if you don't have a previous professional relationship that you can turn to, then recruiting is the next step. But make sure there's a shared company vision with any new team member early on, Aiello noted.
"My advice is don't give them shares until you are absolutely certain that they share your vision," Aiello cautioned.
One way to try out people for a full-time position in a startup company is to use them as consultants, said Mitchell Mutz, PhD, an entrepreneur partner at Vivo Capital in Palo Alto, CA.
"Typically, with consultants, you don't need to get them equity if you can pay them, and it's a great way to try out the relationship both ways," Mutz said. "If they're happy and you're happy, then later you can bring them on full time."
Of course, there's no such thing as too much networking, Mutz added.
"You want to go to conferences [and] build connections," he said.
2. The field approach to finding customers
You have a product in hand, but how do you go about finding customers? A field approach is one way, said Amel Bendali, PhD, chief operating officer and co-founder of Inorevia in Paris.
Because Bendali and her startup company were specifically targeting molecular biology labs, they would visit research labs and observe how the researchers, technicians, and engineers were performing their everyday experiments. In this way, they received the most feedback without bias, she said.
"And then of course ... as soon as possible ... we talk to them about our core technology and get their feedback: What would be interesting for them, and which specific application would have the highest value and the better benefits for the person," Bendali said.
3. Money, money, money
For those looking for funds outside of venture capital, there are grants available in the U.S., such as through the Small Business Innovation Research (SBIR) program; however, these can be challenging to apply for and require some skill to navigate, noted Coleman Murray, PhD, chief operating officer at Ferrologix. The company has been solely funded on SBIR grants.
"[The grants] are hard to write, but you get into the rhythm and that's kind of fun, especially connecting to the customer," Murray said.
Writing the grant proposal is an opportunity to understand the customer, the value proposition, and the key performance indicators (KPIs), which Murray said is a key part of fundraising. But it's wise to seek other investment opportunities, too.
"You do need partner investors to grow the company," Murray added. "Grants can kind of help you with that early-stage technology derisking, validating the market, maybe getting some early customers. But you do need -- when you're ready to grow the company -- to look for those other investment opportunities."
4. Ask investors for feedback
Because seeking venture capital is an inevitable part of any funding process, don't shy away from investor meetings; rather, take them as an opportunity to gain valuable feedback. Ask specific questions to get granular feedback at your presentation, Mutz noted.
"For example: What will it take for this to get funded? Do I need more emphasis on team, on technology? Is it the syndicate? Are we ready for funding?" he said.
Sometimes, your company is not appropriate for a specific investor. Not to worry, though! You can network at your pitches.
"A lot of times you will hear a pitch and they're not a fit for your particular venture file," Mutz said. "If it's not a fit, it isn't, but what I can help do is identify other firms who are more of a fit."
5. Manage expectations
Your product may stir up a lot of excitement, but it's important to manage expectations and set achievable milestones.
"Look for an earlier beachhead," Murray said. If you're developing a tool, consider whether you go into the veterinary market first, he added.
Another tip is to bring your customer along for the development of the product. One strategy could be sharing fresh data with the customer without disclosing intellectual property.
Whatever strategy you choose, honesty is the best policy, according to Mutz.
"I think you just have to be very direct with funders; with customers, be realistic about when you'll deliver a prototype or a product," Mutz said. "If it's something truly transformative, people will wait. It's best to underpromise and overdeliver."
6. Learn from others' mistakes
For scientist-entrepreneurs, it's natural to want to focus on the science, but you really need to understand how your "technology connects with that customer's pain point," Murray said.
Go beyond the science to understand the personal story behind your product, and use that to connect to customers, he noted.
"I've made that mistake of walking in and being like: 'Oh check it out. We got micromagnets,' " Murray said. "But is it going to help that person run a separation, so they can go home to their kid? That's when people buy things, because it improves their quality of life and helps them do a better job, accelerate their work."