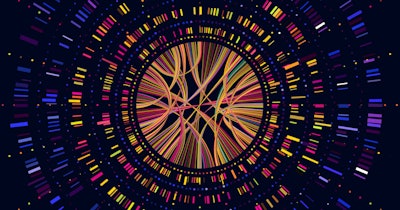 A nanopore sequencing method that can map dozens of biomarkers at the same time has the potential to transform testing for heart disease and other conditions, say researchers.
Scientists at Imperial College London have revealed the results of a research collaboration with Oxford Nanopore Technologies (ONT) in Nature Nanotechnology.
The research team developed a workflow method built around ONT's MinIon handheld sequencing device, in which they performed nanopore sequencing of DNA-barcoded molecular probes engineered to recognize a panel of analytes, with the addition of machine learning to understand the results.
Barcoded probes were incubated with synthetic targets or serum samples from healthy participants. This enabled detection of at least 40 targets, such as microRNAs, proteins, and neurotransmitters, "on the basis of the translocation dynamics of each probe as it passes through a nanopore."
These targets have the potential to be used as a new class of biomarkers in a method that delivers results in less than an hour and could allow clinicians to gather more information about a patient's disease, say the researchers.
"Our data show that barcoded probes, in combination with the ONT sequencing platform, offer a highly accurate and sensitive analyte sensing platform with single-molecule resolution," the authors write.
Although the miRNAs selected for detection in the assay have all been previously associated with cardiovascular disease, the scientists say that the method is very adaptable; by changing the target biomarkers, it could be used to detect characteristics of other diseases such as cancer and neurodegenerative conditions.
The researchers say speed, portability, and the ability to monitor different types of molecules at the same time from the same clinical sample is "a clear improvement" compared to other biomarker detection technologies and shows great potential for use in clinical environments.
"We believe that this strategy could improve current diagnostics and move us closer towards personalized medicine," said Caroline Koch, who is the co-first author of the study and a member of Imperial College's Department of Chemistry.