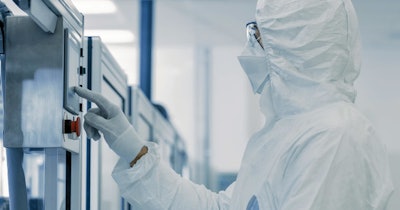 Thermo Fisher Scientific executives have voiced hopes for expanding work to help combat diseases at its giant $180 million viral vector manufacturing site in Plainville, MA.
The company could "double … or even triple the production" of viral vectors at the plant, said Cédric Volanti, the firm's vice president and general manager of viral vector services, according to EndPoints News.
Volanti said the facility, which opened a year ago, would help "to scale gene therapy production and improve access for patients waiting for potentially life-saving new therapies."
Viral vectors are regarded as critical components in the development and commercialization of gene therapies used for delivery of functional genes to replace defective genes in efforts to cure genetic disorders. Shortages in recent years have led to bottlenecks in manufacturing cell and gene therapy products.
Thermo Fisher's Plainville plant, which opened in August 2022, became its fifth viral vector manufacturing unit. It features flexible laboratory and production suites, warehousing and office space, bioproduction, and analytical instrumentation technologies.
The company is thus far only using 290,000 sq ft of the plant's 400,000-sq-ft capacity and is eager to house laboratories, according to the Boston Globe, which was among the news media and life sciences companies invited on a tour and discussion with senior executives last week. The companies included NysnoBio, bluebird bio, MassBio, MassBioEd Foundation, and Massachusetts Life Sciences Center.
Volanti said, "We are playing an important role for medicine not of the future, but the medicine right now that can treat and cure extremely debilitating diseases," the Boston Globe reported.
The report added that although the company declined to identify which drug companies have hired it to make gene therapies and related treatments, Volanti said his firm was manufacturing medicines for Duchenne muscular dystrophy, sickle cell disease, multiple myeloma, Parkinsons' disease, deafness, and central nervous system diseases.
Thermo Fisher Scientific, with an annual revenue of $40 billion, describes itself as a "world leader in serving science," working with companies to improve patient diagnostics and therapies and increase productivity in their laboratories. It has over 26,000 employees in the U.S. and Canada in offices, distribution centers, manufacturing sites, and the company's global headquarters in Waltham, MA. In 2019 it acquired Brammer Bio, a viral vector contract development and manufacturing organization, for $1.7 billion.
Jennifer Johnston, PhD, co-founder and CEO at NysnoBio, a developer of gene therapy products, posted online after the tour that the company was "thrilled to be building the relationship that will take us from Process Development to the clinic and beyond."