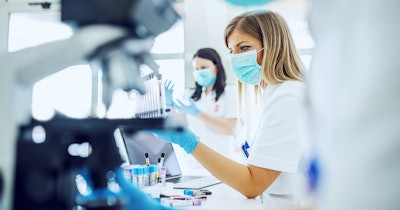 A newly designated U.S. government health research hub in Dallas is driving growth in specialty lab space construction, infrastructure, and outfitting.
The city of Dallas' Pegasus Park is part of a new network of physical locations for the Advanced Research Projects Agency for Health (ARPA-H) consortium. ARPA-H is an agency within the U.S. Department of Health and Human Services (HHS).
The Texas location unifies health research efforts in Dallas, San Antonio, Austin, and Houston, as well as El Paso and College Station, into a new "customer experience" hub. With the development, the City of Dallas Economic Development Committee said in a statement that the Dallas area seeks to better compete with traditional technology hubs in California and Massachusetts.
Those who can join the ARPA-H's customer experience hub in Texas include the following:
Institutions of higher education (IHE)
For-profit organizations (research organizations, healthcare organizations or systems, independent hospitals, biodesign firms, and others)
Small businesses
Clinics, public, and community health centers, other healthcare facilities
Payers, patient advocacy groups
Nonprofit organizations
Community-based organizations
Federally funded research and development centers
As part of progress toward health research projects in Texas, officials expect the opening of Bridge Labs in 2024, for example. Bridge Labs benefitted from an economic development grant, according to the Dallas Business Journal. J. Small Investments, Montgomery Street Partners, and an affiliate of Lyda Hill Philanthropies announced plans in June for Bridge Labs.
"Complementing other anchors of biotech activity on campus such as the thriving startup community at BioLabs, the private lab spaces at Bridge Labs will support the needs of more established life sciences companies," according to Montgomery Street Partners, describing the 135,000 square feet of space as "next-generation" and "purpose-built research and development space."
BioLabs is an international membership-based network of shared lab and office facilities located in biotech innovation clusters. According to BioLabs' website, the company has U.S. facilities mainly along the East Coast, in California, and now in Texas, as well as in France and Germany.
"We are working on the 'what's next?' lab space," Gabby Everett, PhD, site director for BioLabs Pegasus Park, told MedCity News, which reported that BioLabs Pegasus Park is a university- and institution-agnostic incubator offering a "level playing ground for life science innovation."
ARPA-H announced on October 19 that it will take action to improve the U.S.' ability to conduct clinical trials safely, quickly, and equitably and to improve clinical trial access for people in communities across the country. According to ARPA-H, the goal of Advancing Clinical Trial Readiness (ACTR) is to enable 90% of all eligible Americans to take part in a clinical trial within a half-hour of their home.
Texas Tribune reported Dallas' selection as part of the health research and innovation network in September.