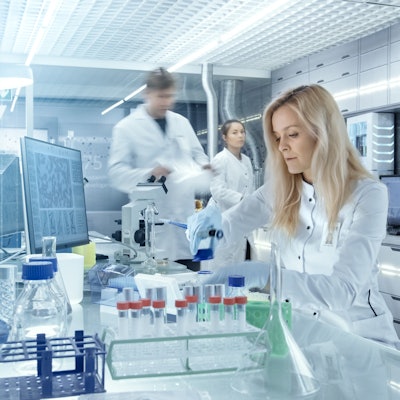 A wide range of products targeted at clinical laboratories received regulatory approval in the first quarter of 2019. They range from new offerings for point-of-care (POC) testing to new biomarkers, assays, and companion diagnostics.
In the POC segment, one of the breakthrough approvals from the U.S. Food and Drug Administration (FDA) was for the Sangia total prostate-specific antigen (PSA) test by Opko Health (Woburn, MA) in January. The Sangia test is the first POC test that quantitatively measures total PSA in capillary whole blood, and it is approved for use with the digital rectal exam (DRE) to screen for prostate cancer in men 50 years and older. The test can be administered with a finger prick and results are generated in 12 minutes.
In March, Roche Diagnostics announced it had received FDA approval for the Ventana PD-L1 (SP142) assay as the first companion diagnostic to aid in the identification of triple-negative breast cancer patients who are eligible for treatment with Roche's cancer immunotherapy Tecentriq (atezolizumab) plus chemotherapy. Using the assay to assess programmed cell death ligand 1 (PD-L1) biomarker status on tumor-infiltrating immune cells is essential for identifying those patients most likely to benefit from the treatment. Every year, about 300,000 women worldwide are diagnosed with triple-negative breast cancer, an aggressive form of the disease. Triple-negative breast cancer represents 15% of all breast cancer diagnoses each year.
Bruker announced that the MALDI Biotyper (MBT) software module, the MBT Filamentous Fungi Library (research use only, RUO), has been expanded by 27 new species and now covers 180 fungal species. With the modular MBT bioinformatics architecture, any new isolates of interest can be added for further learning and expansion of this fast microbial ID system. In the MBT RUO library version, trained microbiology customers themselves can add new isolates.
Bruker in March launched the high-performance FluoroCycler XT platform (CE-IVD Mark), a novel, next-generation polymerase chain reaction (PCR) thermal cycler and reader that enables the new Liquid Array family of high-sensitivity, cost-effective midplex assays, directly from samples without culturing steps. A novel tuberculosis assay, FluoroType MTBDR 2.0 (CE-IVD Mark), detects more than 60 mutations in Mycobacterium tuberculosis (MTB) genes for up to 522 resistance patterns to guide therapy. The company also recently announced that an assay for transplant medicine has been added for herpes simplex viral analysis, which complements the FluoroType BKV HT assay for the BK polyomavirus on the FluoroCycler platform.
In January, Grifols announced FDA approval of the company's Procleix Babesia assay, a qualitative assay for detecting the ribosomal RNA from 4 Babesia species (B. microti, B. duncani, B. divergens, and B. venatorum). It can provide detection in individual samples or up to 16 pooled lysed specimens from human donors, including donors of whole blood and blood components for transfusion. The assay runs on the Procleix Panther system -- a fully automated platform utilizing nucleic acid testing (NAT) for blood screening.
In April, Beckman Coulter announced FDA 510(k) clearance for its Early Sepsis Indicator -- a hematology-based cellular biomarker to help emergency department (ED) physicians identify patients who have sepsis or are at risk of developing it. The results are reported as part of a routine complete blood count with differential test conducted for adult ED patients. The Early Sepsis Indicator can be used in conjunction with Beckman's Multidiscipline Reflex Rules in its Remisol Advance middleware, which connects laboratory information systems and instrumentation. The rules can be used to create customized, automated reflex panels of Beckman's portfolio of in vitro diagnostic tests in the current sepsis identification and management care pathway.
Also in April, Ortho Clinical Diagnostics announced that the FDA had cleared its Vitros XT MicroSlide product featuring new multitest technology. This new product runs on the company's Vitros XT 7600 integrated system, and it allows labs to run two tests simultaneously on one MicroSlide, pairing tests that physicians typically order together. Available pairs include triglycerides and cholesterol, urea and creatinine, and glucose and calcium.
In March, Abbott's Alinity molecular diagnostic system and assays received the CE Mark for infectious disease testing. This molecular diagnostic platform offers the following assays: virology for human immunodeficiency virus (HIV) type 1, hepatitis B virus, and hepatitis C virus; sexual health-related testing for Chlamydia trachomatis (CT), Neisseria gonorrhoeae (NG), Trichomonas vaginalis (TV), and Mycoplasma genitalium (MG), or a CT/NG/TV/MG panel; and high-risk HPV testing.
In November 2018, Qiagen commercialized its QiaScreen HPV PCR test, which has the CE-IVD Mark as a molecular diagnostic assay for 15 recognized high-risk genotypes of HPV associated with cervical cancer. The test includes both screening and genotyping functionality in one assay. It is also designed to detect a range of DNA targets within the E7 regions of the HPV virus. Qiagen claims that this assay provides the flexibility of PCR without the risk of false positives due to the L1 deletion.
A few months prior, Qiagen had inked a strategic partnership and merger agreement with NeuMoDx related to the commercialization of a pair of fully integrated PCR-based molecular diagnostic systems. As part of the agreement, Qiagen will distribute the high-throughput NeuMoDx 288 and midthroughput NeuMoDx 96 systems in Europe and other markets outside the U.S., while NeuMoDx will continue to market the products. Earlier in July 2018, the FDA had granted 510(k) clearance to the high-throughput NeuMoDx 288 platform and group B Streptococcus assay.
Abbott Diagnostics in February finally received a CLIA waiver from the FDA for its BinaxNow Influenza A & B Card 2 with its Digival diagnostic reader. BinaxNow Influenza A & B is an in vitro immunochromatographic assay used for the qualitative detection of influenza A and B nucleoprotein antigens in nasopharyngeal swab and nasal aspirate specimens. The Digival reader reads and interprets BinaxNow Influenza A & B Card 2 tests in seconds, delivering automated test results. Alere had obtained FDA 510(k) clearance in April 2017 for the reader (prior to finalization of the company's acquisition by Abbott).
In the world of molecular POC, the respiratory syncytial virus (RSV) segment saw a new addition when Mesa Biotech's Accula RSV test received FDA 510(k) clearance, CLIA waiver, and the CE Mark in early 2019. Accula RSV is distributed and marketed by Sekisui Diagnostics as the Silaris RSV test. The test is indicated for use with nasal swab collection. The Accula/Silaris system is a palm-sized, reusable dock with disposable test cassettes. Its novelty is that it is a molecular visual test, providing the familiarity of traditional POC rapid immunoassays with the superior sensitivity and specificity that comes with a PCR-based test.
Bruce Carlson is the publisher of Kalorama Information, part of Science and Medicine Group. More information on in vitro diagnostic testing is available in Kalorama's "Worldwide Market for In Vitro Diagnostic Tests" report.
Disclosure: LabPulse.com is a sister company of Kalorama Information.